Perfect Breakfast Wrap
Eggs, bacon and a hash brown, all slathered in maple butter and warmly hugged in a thin pancake wrap.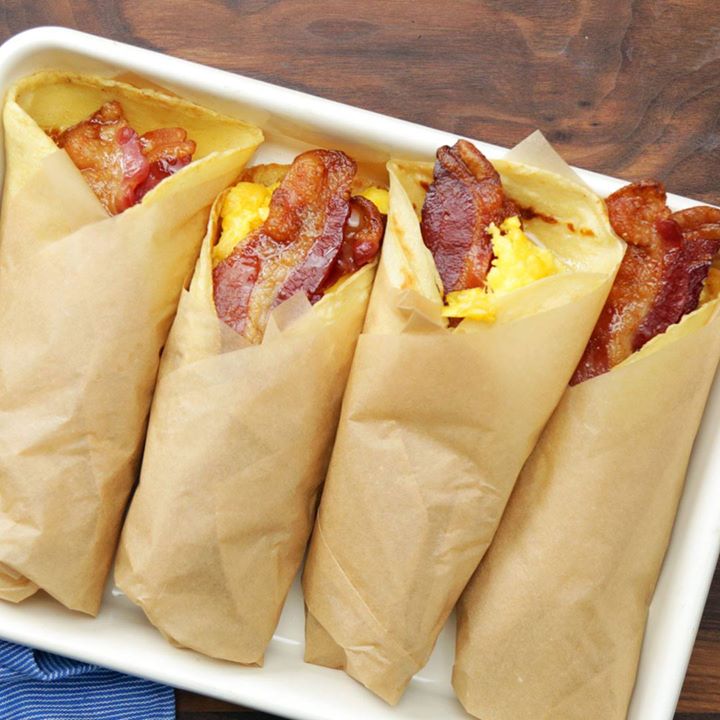 Ingredients
For the pancake wraps:
2 large eggs
¼ teaspoon vanilla
¼ teaspoon salt
1 cup milk, divided
1 cup all-purpose flour
½ teaspoon butter
For the wrap filling:
4 hash brown patties
8 strips bacon
4 tablespoons butter, divided
1½ teaspoons salt, divided
8 large eggs
1 cup shredded cheese
4 tablespoons maple butter
2 tablespoons maple syrup
Instructions
Make the pancakes:
In a medium-sized bowl, whisk eggs until lightly beaten. Add vanilla, salt and ⅓ cup of the milk, and stir until combined. Add flour and whisk until smooth. While whisking, add the remaining milk. Batter should be thick and smooth.
Heat a 10-inch pan on medium-high and coat with butter. Drop approximately ⅔ cup of batter onto pan and cook until golden. You will start to see bubbles form on the top of the dough when it is close to flip time. Flip over and repeat until golden. Keep pancakes warm on a plate until ready to assemble.
Prep the wrap ingredients:
Preheat the oven to 425 degrees. Line 2 baking sheets with parchment paper.
Place 4 hash brown patties on parchment and bake until golden, approximately 20 to 25 minutes. Place strips of bacon on another sheet and bake until crispy, approximately 20 minutes.
While bacon and hash browns are baking, prepare the remaining ingredients for the wraps.
In a large nonstick pan, melt the remaining tablespoons of butter over medium heat. Crack eggs into a medium-sized bowl with the remaining salt, and whisk until yolks are broken and eggs are just combined. Pour into the warm pan and turn heat down to medium-low. Cook eggs very slowly, swirling them in the pan using a wooden spoon or spatula. Eggs are done when they look silky, have come together and are still a little wet. Turn off the heat and add cheese. Mix just to combine. Set aside.
To assemble wraps:
Spread maple butter in the middle of each pancake and place a hash brown on top. Place a quarter of the scrambled eggs on each hash brown. Layer bacon over the eggs and drizzle with maple syrup.
Secure wraps in parchment until serving. They will keep up to a day in the fridge. Reheat in the oven or microwave before serving.
Watch the recipe video here:
All your breakfast faves slathered in maple butter & warmly hugged in a thin pancake wrap.Save this recipe: https://taste.md/2vJoKlJ

Posted by Tastemade on Thursday, September 14, 2017