Chipotle Tortilla Chip-Crusted Shrimp
Chipotle Tortilla Chip-Crusted Shrimp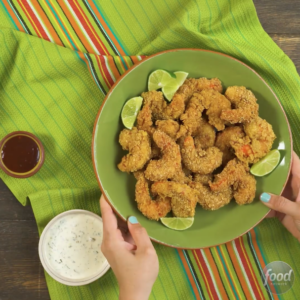 Ingredients
½ cup mayonnaise
2 tablespoons finely chopped pickled jalapenos
2 tablespoons canned chopped green chiles
Juice of 1 lime, plus wedges for serving
2 tablespoons chopped fresh cilantro
Kosher salt
1½ cups all-purpose flour
2 large eggs
1 cup finely ground tortilla chips (about 4 ounces)
1 pound large shrimp, peeled and deveined
½ to 1 teaspoon chipotle chile powder
Vegetable oil, for frying
Chipotle barbecue sauce, for serving
Instructions
Combine the mayonnaise, jalapenos, green chiles, lime juice, cilantro and a pinch of salt in a small bowl; refrigerate until ready to use.
Put 1 cup flour in a small shallow bowl; whisk the eggs in a separate shallow bowl. Combine the ground tortilla chips and the remaining ½ cup flour in a third bowl.
Season the shrimp with salt and the chile powder. Dredge the shrimp in the plain flour, dip in the egg, letting the excess drip off, then press into the tortilla chip?flour mixture until evenly coated. Transfer to a large plate.
Heat ½ inch of vegetable oil in a large skillet over medium-high heat until shimmering. Working in two batches, add the shrimp and cook, turning, until golden and crisp, about 3 minutes. Transfer to a paper towel?lined plate to drain. Season with salt. Serve with the jalapeno mayonnaise, chipotle barbecue sauce and lime wedges.
Watch the recipe video here: