Egg Roll Casserole
If you can't get enough egg rolls, this is the dinner for you! We've packed all of the goodness of the takeout classic—pork, ginger, cabbage, snow peas and teriyaki sauce—into easy-to-make casserole form, topped with the added crunch of Chow Mein noodles.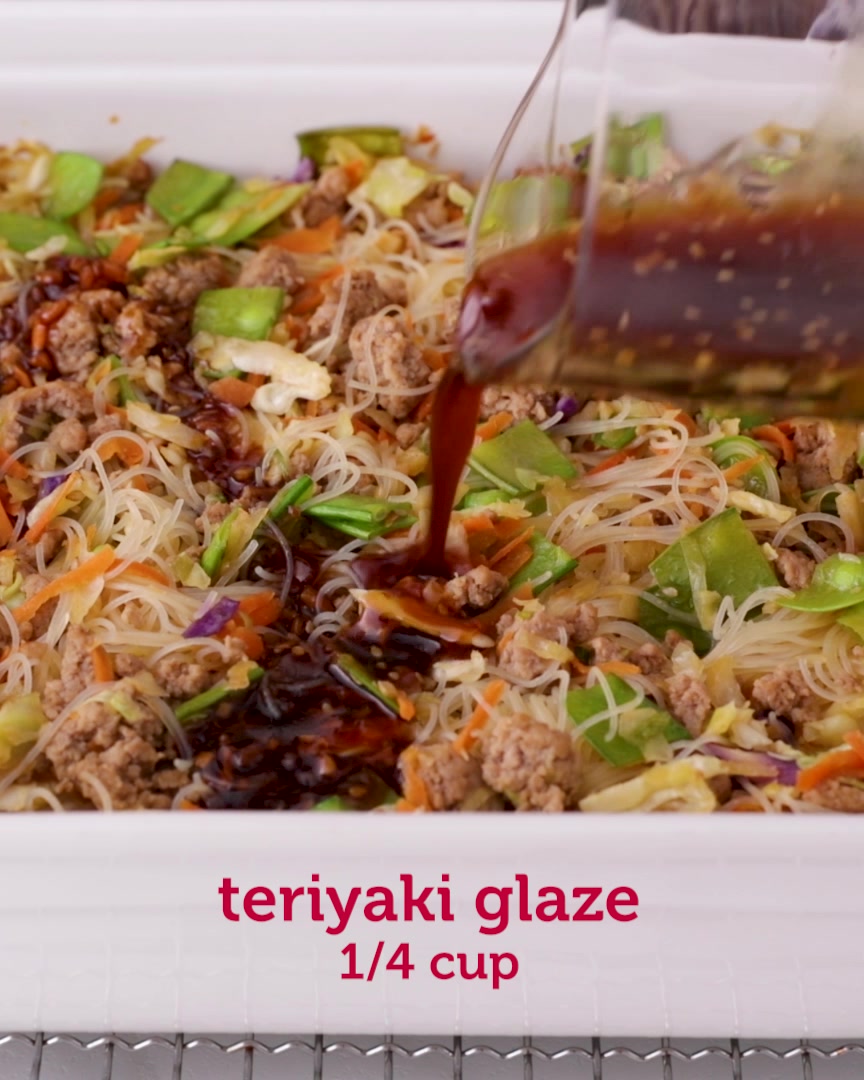 Ingredients
1 lb ground pork
1 tablespoon chopped fresh gingerroot
1 tablespoon chopped fresh garlic (about 2 large cloves)
1 bag (10 oz) coleslaw mix
1 cup fresh snow pea pods, cut in ½-inch pieces
½ cup shredded carrot
½ cup chopped green onions
½ cup bottled teriyaki baste and glaze
2 tablespoons soy sauce
2½ cups Progresso™ reduced sodium chicken broth (from 32-oz carton)
2 teaspoons Sriracha sauce
1 package (8.8 oz) thin rice stick noodles
1 cup chow mein noodles
Instructions
Heat oven to 350°F. Spray 13x9-inch (3-quart) glass baking dish with cooking spray.
Heat 12-inch skillet over medium-high heat. Add pork, gingerroot and garlic; cook 8 to 10 minutes, stirring to break up chunks, until no pink remains; drain, and return to skillet over medium heat. Stir in coleslaw mix, pea pods, shredded carrot, ¼ cup of the green onions, ¼ cup of the teriyaki glaze, and the soy sauce; carefully toss with tongs until blended. Remove from heat, and place in large bowl.
Meanwhile, in 4-quart saucepan, heat broth and Sriracha sauce to simmering. Add rice stick noodles; reduce heat to low, and cover. Note that noodles will not be completely immersed in liquid. Cook 2 minutes; stir to moisten noodles. Cover and cook 2 minutes longer; remove from heat, and let noodles stand 1 to 2 minutes, stirring occasionally, until all of the liquid is absorbed. Add noodles to bowl with pork mixture; toss gently with tongs until completely mixed. Spoon mixture into baking dish; cover with foil.
Bake 20 to 22 minutes or until heated to 165°F in center of casserole. Drizzle with remaining teriyaki glaze; top with remaining green onions and the chow mein noodles.
Watch the recipe video here: