Shrimp Scampi Mac and Cheese
This mash-up of macaroni 'n' cheese and your favorite garlicky shrimp dish is deeply cheesy and satisfying.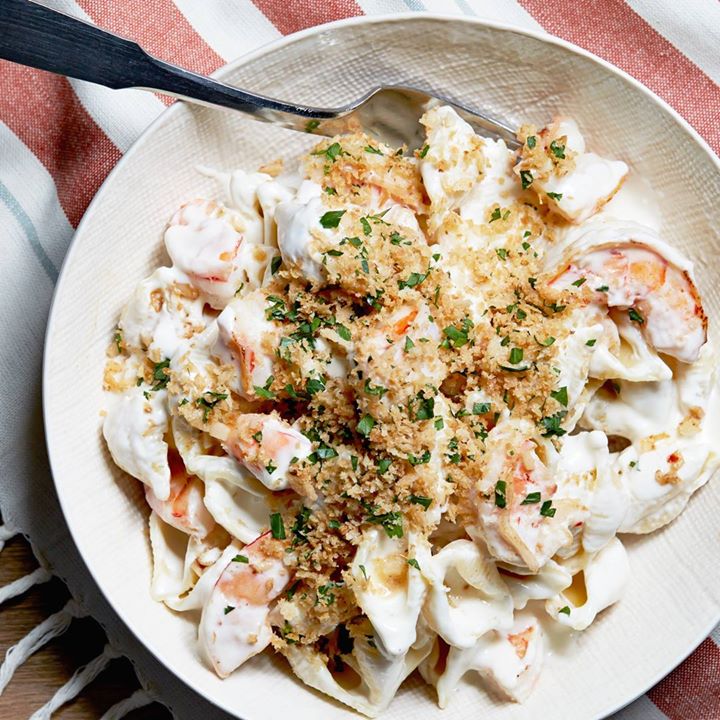 Ingredients
6 tablespoons unsalted butter
½ cup panko breadcrumbs
½ teaspoon crushed red pepper flakes
Kosher salt
2 tablespoons chopped fresh parsley
1 pound medium pasta shells
2½ cups half-and-half
8 ounces cream cheese, at room temperature
8 ounces shredded Italian cheese blend (about 2 cups)
4 cloves garlic, minced
2 tablespoons dry white wine
1 pound large shrimp, peeled, deveined and cut into 1-inch pieces
Finely grated zest of 1 lemon
Instructions
Melt 2 tablespoons butter in a small skillet over medium heat until foamy but not brown. Stir in the panko, ¼ teaspoon crushed red pepper flakes and a pinch of salt and continue to cook, stirring frequently, until the panko is golden brown, about 5 minutes. Remove from the heat and stir in the parsley; set aside.
Bring a large pot of salted water to a boil. Add the pasta and cook according to the package instructions. Strain, reserving 1 cup of the pasta water. Set aside.
Heat the half-and-half in a large saucepan over medium heat until it just comes to a simmer. Continue simmering until the half-and-half is reduced to 2 cups, about 5 minutes. Add the cream cheese and cook, stirring, until melted. Whisk in the Italian cheese blend until all the cheese is melted and the sauce is smooth. Turn off the heat and keep warm.
Meanwhile, melt the remaining 4 tablespoons butter in a large saute pan over medium heat. Stir in the garlic and the remaining ¼ teaspoon crushed red pepper flakes and cook until fragrant, about 2 minutes. Pour in the wine and reduce until the alcohol smell is no longer present and the sauce is a nice golden color, about 2 minutes. Stir in the shrimp and lemon zest and cook, stirring, until the shrimp are pink and just cooked through, about 2 minutes; sprinkle with ½ teaspoon salt and set aside.
Add the pasta and shrimp mixture to the cheese sauce and stir to combine. Stir in some of the reserved pasta water to thin the sauce if needed. Season to taste with salt if needed. Spoon the hot mac and cheese into bowls and sprinkle with the parsley panko.
Watch the recipe video here: