Philly Cheesesteak Grilled Cheese Sliders
We've been around the block with philly cheesesteaks - from that initial quickening of the heart, that frisson of excitement as eyes meet across a smoky room at a party, to the flirting on your phone, the first kiss in the rain. We've reached the part where we've settled down with this cheesy, steaky beast; we're having to start mixing it up, keeping it fresh, relieving the familiarity that breeds contempt. Please let us introduce our latest food relationship bandage, Philly Cheesesteak Grilled Cheese Sliders.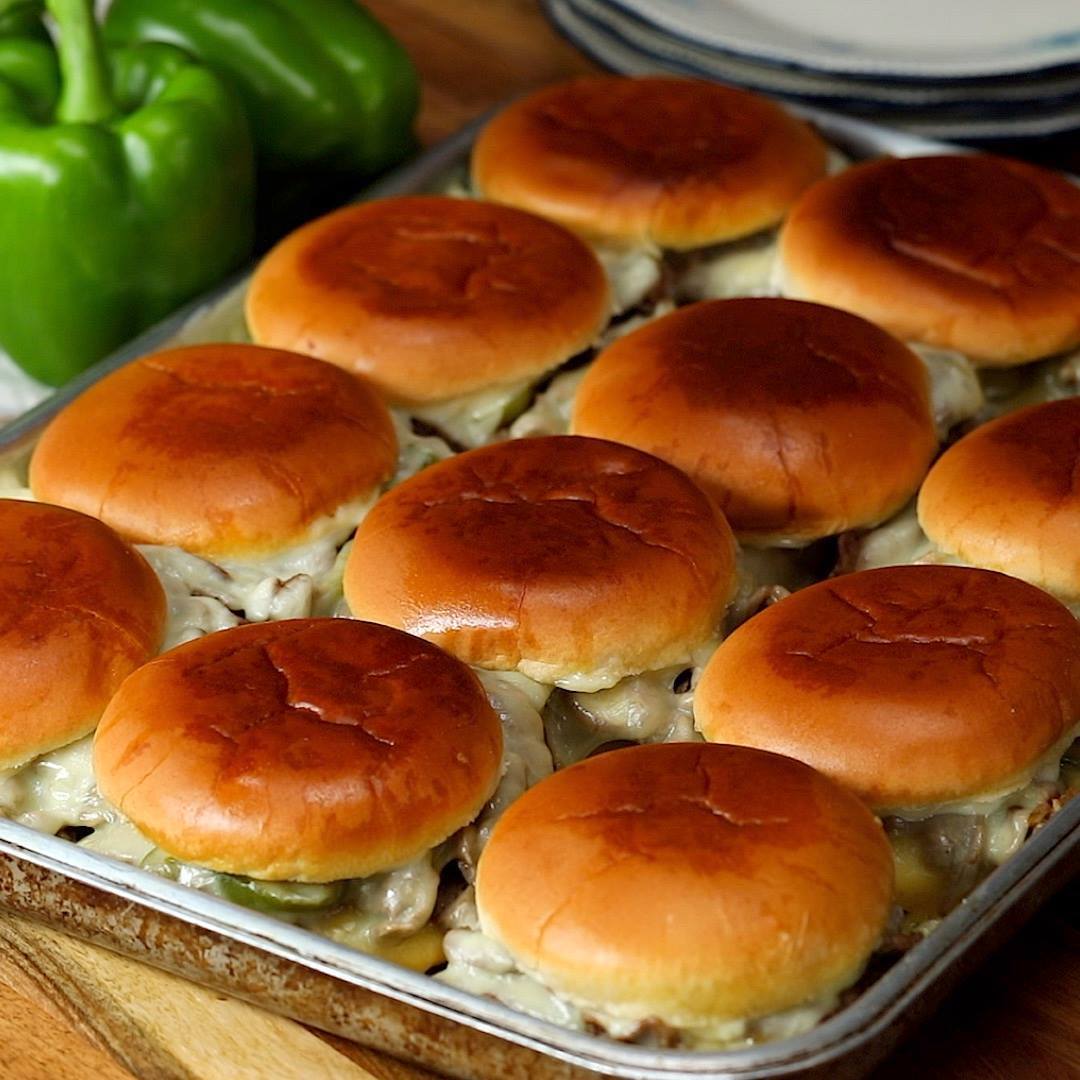 Ingredients
2 tbsp vegetable oil
800g sirloin steak
3 green peppers, thinly sliced
1 large onion, thinly sliced
3 cloves garlic, crushed
1 tbsp salt
1 tbsp ground black pepper
12 slider buns
100g butter, melted
Mayo
12 slices mild cheddar
12 slices mozzarella
Instructions
Fry the thinly sliced steak very quickly on a high heat - just enough to brown and cook it through.
Remove from the pan and add a splash more oil. Fry the peppers and onions until soft, then add the garlic and mushrooms and fry until the mushrooms have got some colour. Add the steak back to the pan, season, and stir everything together.
Cut the slider buns in half. Brush butter on both the top and bottom and place the bottom halves on a baking tray. Spoon a small amount of mayo on the cut side of the buns, then top with cheddar slices and a hearty amount of the steak-pepper mix. Top with mozzarella and the top of the buns, then lay foil over the top and press another tray on top to squash them.
Bake for 20 minutes or so, until the buns are crisp and the cheese has melted.
Watch the recipe video here: