Grilled Spatchcock Firecracker Chicken
We've transformed the restaurant classic into the ultimate salty-sweet cookout main course. Cutting the chicken in half and grilling it flat gets you super-crispy skin and a shortened cook time.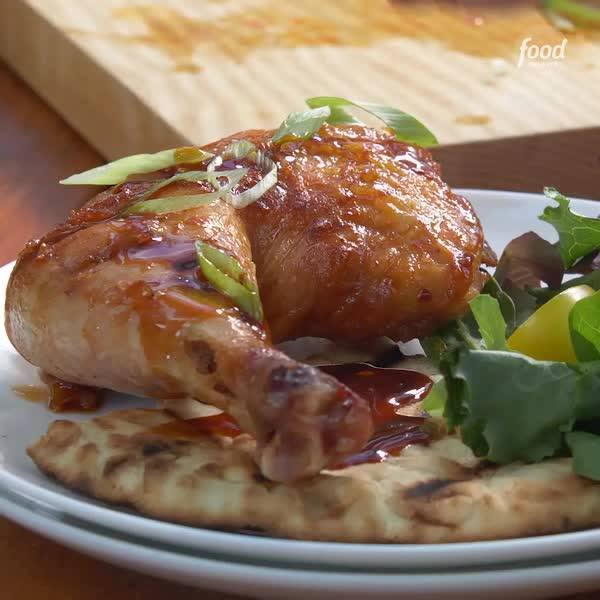 Ingredients
One 3- to 4-pound whole chicken
Kosher salt and freshly ground black pepper
Vegetable or neutral oil, for the grill grates
½ cup soy sauce, such as Kikkoman® Traditionally Brewed Soy Sauce
½ cup light brown sugar
½ cup Buffalo-style hot sauce
1 tablespoon rice wine vinegar, such as Kikkoman® Rice Vinegar
1 teaspoon red pepper flakes
2 scallions, sliced
Flatbread, for serving
Instructions
Prepare a grill for direct and indirect heat: For gas grills (with 3 or more burners), turn all the burners to medium-high heat; after about 15 minutes, turn off one of the side burners and turn the remaining burners down to medium. For charcoal grills, bank one chimney starter-full of lit and ashed-over charcoal briquettes to one side of the grill. Set up a drip pan on the other side to avoid flare-ups. (Be sure to consult the grill manufacturer's guide for best results.) If your grill has a thermometer, aim to keep the temperature at about 350 degrees F throughout grilling.
To spatchcock the chicken: Use kitchen shears to cut out the backbone from the chicken. Lay the chicken breast-side down on a cutting board and use a large knife to cut through the breastbone but not into the flesh. Push the chicken down to flatten it. Cut the wings off at the third joint (at the wing tip). Line a plate with paper towels and put the chicken on it skin-side down to dry the skin. Sprinkle the non-skin side generously with salt and pepper.
Oil the grill grates thoroughly. Put the chicken on the indirect-heat side of the grill skin-side down and top with a large cast-iron skillet. Cover the grill and cook until an instant-read thermometer inserted in the thickest part of the thigh registers 165 degrees F and the skin is golden and very crisp, 35 to 40 minutes.
Meanwhile, combine the soy sauce, sugar, hot sauce, vinegar and red pepper flakes in a medium bowl and whisk to combine.
Remove the skillet from the chicken and put it on the direct-heat side of the grill (leave the chicken where it is). Pour the soy mixture into the skillet and bring it to a boil. Immediately transfer the chicken to the skillet with tongs and coat both sides in the sauce. Sprinkle with the scallions and serve with flatbread.
Watch the recipe video here: