SMOKED SALMON BREAKFAST FLATBREAD
These everything bagel flatbreads, which are great for breakfast or breakfast-for-dinner combine two of my favorite foods – lox and everything bagel seasoning!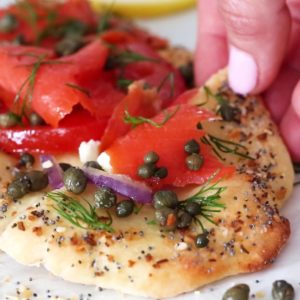 Ingredients
1 cup 5 oz all purpose or white whole wheat flour*
1½ teaspoons baking powder
½ teaspoon kosher salt
1 cup non-fat Greek yogurt, not regular, drained if there's any liquid*
olive oil spray
Everything Bagel Seasoning, store bought or homemade (see recipe above)
½ red onion, peeled and sliced into thin strips
1 tablespoon extra virgin olive oil
2 ounces ½ cup ⅓ less fat cream cheese
1 beefsteak tomato, sliced thin
4 ounces smoked salmon or nova lox
2 tablespoons capers, drained
fresh dill, for garnish
*For gluten free I suggest Cup 4 Cup flour.
Instructions
Preheat the oven to 450F. Place a silicone liner on a large baking sheet or spray with oil if using parchment.
In a medium bowl combine the flour, baking powder and salt and whisk well.
Add the yogurt and mix with a fork or spatula until well combined, it will look like small crumbles.
Lightly dust flour on a work surface and remove dough from the bowl, knead the dough a few times until dough is tacky, but not sticky, about 20 turns (it should not leave dough on your hand when you pull away).
Divide into 4 equal balls about 3-3/8 oz each.
Sprinkle a work surface and rolling pin with a little flour roll the dough out into thin ovals 7 to 8 inches in diameter and place on the prepared baking sheet.
Spritz the dough with olive oil. Sprinkle everything bagel seasoning in a 1-inch boarder around the edge.
Combine half of the red onion with olive oil, scatter the onion in the center of each.
Transfer to the oven and bake 10 to 14 minutes, until the crust is golden and crisp.
Remove from oven and dallop cream cheese in the center of each, leaving the edge clear.
Top with tomato, then salmon and top with capers and dill.
Air Fryer Directions
Preheat the air fryer to 400F.
When the air fryer is ready, transfer the dough, to the basket and bake until firm and golden, 5 to 6 minutes turning once half way. Repeat with the remaining dough.
Watch the recipe video here:
These flatbreads are EVERYTHING! 6 Freestyle Points • 247 Calorieshttps://www.skinnytaste.com/smoked-salmon-breakfast-flatbread/

Posted by Skinnytaste on Sunday, June 30, 2019