BUFFALO CHICKEN GRILLED CHEESE
BUFFALO CHICKEN GRILLED CHEESE recipe.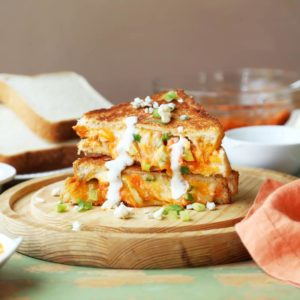 Ingredients
2 rotisserie chicken breasts
1⁄2 cup buffalo, chicken sauce
1⁄4 cup sliced scallion
8 sliced Texas toast thick bread
1 cup shredded cheddar cheese
1 cup shredded monterey jack cheese
2 celery ribs, thinly sliced
1 large carrot, thinly sliced
1⁄4 cup crumbled blue cheese
6 tablespoons unsalted butter, softened
1 cup blue cheese dressing
Instructions
Remove the skin and bones from the chicken and shred into a large bowl. Toss together with the buffalo sauce and scallions.
To assemble the sandwiches, lay out 4 bread slices in a single layer. Brush the bread with 3 tablespoons of the softened butter, then turn the bread over. Top each bread slice with ¼ cup shredded cheddar cheese, ¼ cup shredded Monterey Jack cheese, buffalo chicken, sliced celery, carrots, and a tablespoon of blue cheese. Top each with a slice of bread and brush with remaining butter.
Heat a skillet or griddle over moderate heat. Working in batches, cook sandwiches until bread is golden and crisp and cheese has melted, about 3 minutes per side. Transfer to a cutting board and cook the remaining sandwiches. Cut each in half and serve with blue cheese dressing for dipping.
Watch the recipe video here: