Vegan Black Rice Sushi Rolls
Vegan Black Rice Sushi Roll recipe.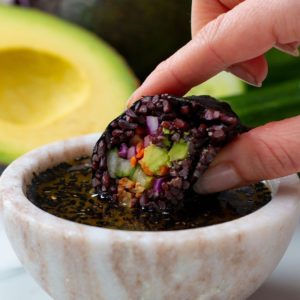 Ingredients
SUSHI
⅓ cup organic tempeh (55 g), cut into thin strips
⅓ cup soy sauce (80 mL)
1 medium carrot, grated
¼ head purple cabbage, grated
3 sheets toasted nori
black rice, cooked according to package directions, and cooled
½ cup avocado (75 g), thinly sliced lengthwise
⅓ cup english cucumber (50 g), seeded, cut into thin strips
⅓ cup cashews (45 g), coarsely chopped
water, for sealing
SESAME MISO SAUCE
3 tablespoons olive oil
¼ cup lime juice (60 mL)
3 tablespoons maple syrup
2 teaspoons white miso paste
2 teaspoons black sesame seeds
1 teaspoon fresh ginger, grated, optional
SPECIAL EQUIPMENT
bamboo sushi mat, optional
Instructions
In a medium bowl, pour the soy sauce over the tempeh. Set aside to marinate for at least 25 minutes. While the tempeh marinates, prepare the rest of the ingredients.
Heat a medium nonstick pan over medium-high heat. Add the marinated tempeh strips. Cook for 1-2 minutes on each side, until golden brown and lightly charred. Remove from the pan and set aside to cool.
In a medium bowl, toss together the carrot and cabbage.
Build the sushi rolls: Lay a sheet of toasted nori, shiny side down, on the bamboo mat or clean work surface. Pat about ¼ of the rice evenly over the nori, leaving about a ½ inch (1 ¼ cm) of space at the top. Layer a few slices of avocado over the rice toward the bottom of the nori sheet. Top with a few pieces of cucumber, some of the carrot-cabbage mixture, a couple of pieces of tempeh, and about 1 tablespoon of chopped cashews.
To close the sushi roll, brush a bit of water across the empty edge of the nori. Using both hands, roll the filled end of the nori sheet over onto itself, carefully tucking all of the ingredients inside. Continue rolling until the nori sheet covers the rice and seal with the damp edge. Repeat with remaining nori sheets and fillings.
With a sharp knife, cut each roll into 6-8 pieces, depending on preference. Pro tip: If you wet the knife before slicing, it will cut through the nori more cleanly. But be careful!
Make the sesame miso sauce: In a small bowl, combine the olive oil, lime juice, maple syrup, miso, sesame seeds, and ginger, if using. Whisk to combine.
Serve the sushi rolls with the sauce for dipping.
Enjoy!
Watch the recipe video here: