Pineapple Pretzel Salad
This recipe is made with pineapple instead of strawberries.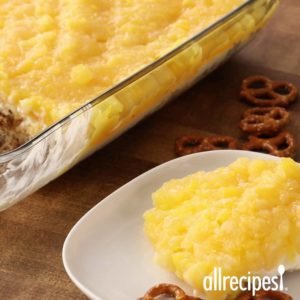 Ingredients
2 cups crushed pretzels
1 cup butter, melted
1 (8 ounce) package cream cheese
1 cup white sugar
1 (8 ounce) container frozen whipped topping, thawed
2 (20 ounce) cans crushed pineapple
½ (3.4 ounce) package instant vanilla pudding mix
Instructions
Preheat oven to 350 degrees F (175 degrees C).
Place crushed pretzels in the bottom of a 9x13 inch baking dish. Pour melted butter carefully over top. Bake in preheated oven 10 minutes.
Cream together cream cheese and sugar. Fold in whipped topping. Spread over cooled crust. Combine pineapple and pudding mix. Spread over whipped topping layer. Chill until serving.
Watch the recipe video here: