You Won't Miss the Bread with This Delicious Low Carb Cauliflower Grilled Cheese
Grilled cheese is one of those classic dishes that pretty much everyone can love because it's so customizable - but have you ever heard of Cauliflower Grilled Cheese?! Yes, it's true, grilled cheese sandwiches can be low carb, and still taste absolutely delicious! Cauliflower is a surprising substitute for bread, but the taste and texture are spot on. Go on and give it a try - you might just make grilled cheeses with cauliflower from now on!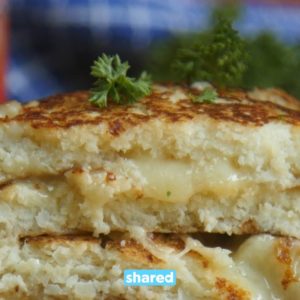 Ingredients
1 head cauliflower, (to make about 4 cups processed cauliflower)
2 eggs, lightly beaten
½ cup Parmesan, finely grated
½ teaspoon oregano
1½ cups white Cheddar, shredded
Instructions
Cut cauliflower into florets. Process cauliflower florets in a food processor until the texture resembles rice. Alternatively, you can grate the cauliflower.
In a medium bowl, combine processed cauliflower, eggs, Parmesan and oregano. Mix until evenly combined then season with salt and pepper.
Heat a large nonstick skillet over medium heat. Spray with cooking spray then scoop the cauliflower mixture into a small patty on one side of the pan. Repeat to form a second patty on the other side. These act as your "bread" slices. Press down on both pieces with a spatula and cook until golden underneath, about 5 minutes. Flip and cook until the other sides are golden, about 3 minutes more.
Top one cauliflower slice with cheese then place the other cauliflower slice on top. Cook until the cheese is melted, about 2 minutes more per side. Repeat with remaining ingredients.
Watch the recipe video here: