GIANT BUTTER CHICKEN STUFFED NAAN
We love butter chicken and naan, what a perfect pairing. Stuffing a giant naan is incredibly fun and much easier than you'd think!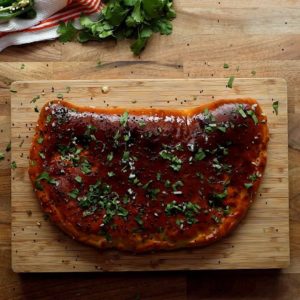 Ingredients
Naan:
150ml warm water
1 tsp sugar
1 ½ tsp yeast
5 tbsp natural yoghurt
300g bread flour
2 tbsp melted butter
1 ½ tsp salt
Chicken Marinade:
3 chicken breasts
1 cup yoghurt
1 tbsp tandoori masala
2 tsp lemon juice
2 tsp minced garlic
2 tsp minced ginger
1 green chilli, chopped
1 tsp lemon juice
1 tsp salt
Sauce:
Oil
1 tsp cumin seeds
1 onions, finely chopped
2 tsp minced garlic
2 tsp minced ginger
1 cup tomato puree
2 tsp cumin powder
2 tsp coriander powder
1 tsp garam masala
1 tsp chili powder
1 cup tomato puree
2 tsp water
Salt to taste
2 tsp sugar
¾ cup double cream
¼ cup butter
¼ cup chopped coriander
1 cup grated mozzarella
¼ cup garlic butter
Chopped coriander
Nigella seeds
Yoghurt sauce for dip
Instructions
Giant Naan:
Put the warm water, yeast and sugar in a bowl and stir well. Leave until it begins to froth. Stir the yoghurt into the yeast mixture.
Put the flour and salt into a large mixing bowl. Pour the butter and yeast mixture into the flour. Mix to combine.
Tip out on a lightly floured surface and knead for about five minutes until smooth, then transfer to a lightly oiled bowl. Cover let rise until doubled in size in a warm area, about 30-40 minutes.
Butter chicken:
Preheat oven to 180ºC.
In a bowl mix together all marinade ingredients. Slit chicken, add to mixture and toss to coat. Marinate for 20 minutes or up to 24 hours.
Transfer chicken to a greased sheet pan and discard remaining marinade. Bake for 30-40 minutes until chicken is cooked through. Shred into small pieces.
Heat oil in a pan over medium heat, add cumin seeds and onions. Cook until onions are softened and caramelised. Reduce heat to medium-low. Add tomato puree and spices except for garam masala. Stir to combine and cover with a lid and simmer for 10 minutes until slightly thickened.
Add cream and butter. Stir to combine and melt butter. Add shredded chicken and coat in sauce. Stir through chopped cilantro.
Cover and cook for 5 minutes.
Assembly:
Tip the risen dough back out onto the lightly floured surface and knock the air out. Roll out into a large circle/oval. Meanwhile, heat a large cast iron pan or heavy pan in a 200ºC oven.
Transfer the dough to a piece of parchment paper for easy transport. Sprinkle half the cheese on the bottom half of the dough leaving a ½" border. Top with shredded butter chicken and remaining cheese. Fold top over and press the edges together to seal.
Using the parchment, carefully place the naan onto the heated pan.
Bake for 30-40 minutes until golden brown.
Remove from the oven and while still hot, brush with garlic butter and top with chopped coriander and nigella seeds
Watch the recipe video here: