Firecracker Baked Salmon
Finding a great sauce for any kind of fish can take some time. Trust me when I say THIS firecracker sauce is SOOO delicious. The brown sugar mixed with all the spices creates the perfect combination of sweet and spicy. Pretty thrilled to have this recipe in the books! It's pretty AND delicious!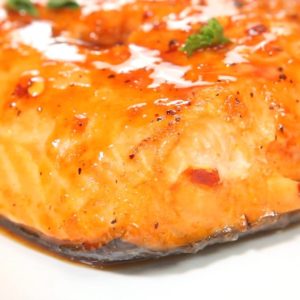 Ingredients
1¼ lb Salmon
¼ tsp Salt + ¼ tsp black pepper
2 Tbsp Chopped parsley, optional
Firecracker Sauce
¼ CUP Franks hot sauce
½ CUP Brown sugar
1 Tbsp Apple cider vinegar
¼ tsp Salt
¼ tsp Red pepper flakes
2 tsp Minced garlic
½ tsp Onion powder
Instructions
Position a rack in the center of the oven and preheat the oven to 375ºF.
In a saucepan, combine the ingredients of the firecracker sauce over medium-high heat, allow to come to a boil, reduce the heat so it simmers.
Let simmer for 8-10 minutes.Remove from heat and allow the sauce to cool for 3-5 minutes. The sauce will thicken as it cools so don't worry if it looks a little thin.
While the sauce is simmering, place the salmon filet in a piece of foil large enough to fold over and seal. I used multiple pieces to keep the sauce from leaking in the baking tray to make clean up easier.
Place the salmon with foil on a baking tray.
Season the salmon filet with salt and pepper.
Using a brush or spoon, brush the salmon with the firecracker sauce.
Cover with foil so that all sides are properly closed so the sauce does not leak. Bake the salmon for 12-14 minutes or until the salmon is firm to the touch in the thickest portion of the fish.
Open the foil and allow the fish to broil under the broiler for 2-3 minutes, keeping a close eye on it so the fish does not burn.
Remove from oven, top with chopped parsley. Serve immediately.
Enjoy!
Watch the recipe video here: