You'll Love This Low-Carb Cheesy Tex Mex Cauli-Rice for a Deliciously Satisfying One Pan Meal!
Whether you're cutting carbs in your diet, or are just looking for the next delicious thing to eat, this recipe is for you! This Cheesy Tex Mex Cauli-Rice leaves your taste buds happy and your stomach satisfied, without feeling heavy or over-stuffed! Cauliflower is the latest food hero, as it's low-carb and the perfect substitute for rice and bread. This cheesy dish makes a great one pan dinner that'll leave you with very little mess and maximum flavor!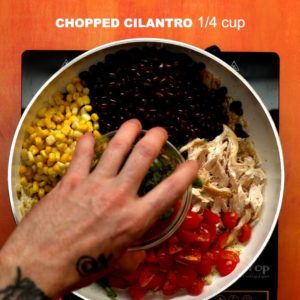 Ingredients
1 tablespoon extra-virgin olive oil
½ medium onion, finely chopped
2 cloves garlic, minced
1 teaspoon dried oregano
½ teaspoon ground cumin
Kosher salt
Freshly ground black pepper
4 cups cauliflower rice
1 tablespoon tomato paste
2 cups shredded rotisserie chicken
1 cup canned black beans, rinsed and drained
1 cup frozen corn, defrosted
1 cup chopped cherry tomatoes
2 jalapeños, thinly sliced
¼ cup. freshly chopped cilantro
1 cup shredded Cheddar
1 cup shredded Monterey Jack
Lime wedges, for serving
Instructions
In a large skillet over medium heat, heat oil. Add onion and cook until tender, about 5 minutes. Stir in garlic, oregano, and cumin and cook until fragrant, about 1 minute.
Add more olive oil if the skillet seems dry, then add cauliflower rice. Season with salt and pepper and cook, stirring occasionally, until rice is tender, 3 to 5 minutes.
Add tomato paste and stir until evenly combined and the cauli-rice is slightly red. Add chicken, black beans, corn, tomatoes, jalapeños, cilantro and stir until evenly combined.
Top cauli-rice with both cheeses, then cover with a tight-fitting lid and cook until cheese is melted, about 3 minutes.
Serve immediately with lime wedges.
Watch the recipe video here: