Reese's Pieces Espresso Poke Cake Is The Perfect Pick-Me-Up
I couldn't wait any longer for Reese's to make a coffee flavor for one of their delicious treats! So I sprang into action with one of the easiest desserts ever......Poke cake!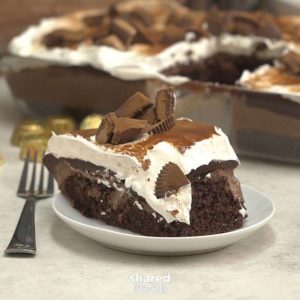 Ingredients
1 box chocolate fudge cake mix, plus ingredients required on the box
3 tablespoons instant espresso powder, divided
2 cups milk
1 cup creamy peanut butter
1 box chocolate fudge instant pudding
2 cups chocolate chips
¾ cup heavy cream
8 ounces Cool Whip
12 Reese's peanut butter cups, quartered
Additional instant espresso powder, to garnish
Instructions
Preheat oven to 350 degrees. Prepare a 9x13 baking pan with nonstick spray.
Prepare the cake mix according to box directions, stirring in 2 tablespoons instant espresso powder until well-combined.
Pour batter into prepared baking dish and bake 25-30 minutes, or until a toothpick inserted comes out with a few crumbs.
Remove the cake from the oven, and using the handle of a wooden spoon, poke holes all over the top.
Working quickly, in a medium mixing bowl, whisk together the milk, peanut butter, and instant pudding until just-combined. Pour pudding mixture evenly over the cake, smoothing it into all the holes. Chill the cake for 4 hours.
Microwave 2 cups chocolate chips, heavy cream, and 1 tablespoon of instant espresso powder on 30-second intervals, stirring in between, until smooth and well-combined, about 1 minute total. Pour chocolate mixture evenly over the cake, then chill once more until set.
Top with Cool Whip, Mini Reese's Pieces and lightly dust with instant espresso powder.
Watch the recipe video here: