Vegan Tiramisu
Wow your friends with this decadent vegan tiramisu. With velvety creamy layers and rich espresso you won't believe this indulgent dessert is vegan.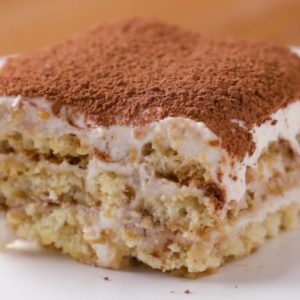 Ingredients
LADYFINGERS
1 ½ cups all-purpose flour (185 g)
1 ½ teaspoons cornstarch
1 teaspoon baking powder
½ teaspoon baking soda
¼ teaspoon kosher salt
6 tablespoons unsalted vegan butter, softened
¾ cup vegan sugar (150 g)
¼ cup aquafaba, liquid from can of chickpeas (60 mL)
1 teaspoon vanilla extract
¼ cup unsweetened almond milk (60 mL)
nonstick cooking spray, for greasing
VEGAN MASCARPONE
1 ½ cups raw cashews (195 g)
boiling water, for soaking cashews
½ cup unsweetened almond milk (120 mL)
⅓ cup maple syrup (115 g)
⅓ cup unrefined coconut oil, melted (65 g)
¼ teaspoon kosher salt
½ teaspoon vanilla extract
1 teaspoon lemon juice
25 oz full-fat coconut milk, chilled (740 mL)
2 tablespoons powdered sugar
SOAKING LIQUID
6 fl oz espresso, room teperature (175 mL)
¾ cup water (180 mL)
3 tablespoons dark rum
cocoa powder, for dusting
Instructions
Make the ladyfingers: In a medium bowl, sift together the flour, cornstarch, baking powder, baking soda, and salt. Set aside.
In a separate medium bowl, cream together the butter and sugar with an electric hand mixer until fully combined. Add the aquafaba and vanilla and beat for 2-3 minutes, until light and fluffy. The mixture may look broken, but will come together once the dry ingredients are added.
Add ½ of the flour mixture to the wet ingredients and beat until just combined. Scrape down the sides of the bowl and add the almond milk. Beat until combined. Add the rest of the dry ingredients and beat until smooth.
Line 2 baking sheets with parchment paper and grease with nonstick spray.
Transfer the batter to a piping bag fitted with a ½-inch round tip or a zip-top bag with a corner snipped off. Pipe the ladyfingers onto the prepared baking sheets, spacing at least 1½ inches apart. Each cookie should be 2¼ inches long and ¾ inch wide. You should have 50-55 total.
Chill the piped cookies in the refrigerator for 30 minutes.
Preheat the oven to 350˚F (180˚C).
Bake the ladyfingers for 13-15 minutes, until the edges are light brown. Let cool completely.
Make the vegan mascarpone: Add the cashews to a medium heatproof bowl and pour in enough boiling water to cover by 1 inch (2.5 cm). Let soak until slightly plumped and softened, about 10 minutes. Drain.
Add the cashews, almond milk, maple syrup, coconut oil, salt, vanilla, and lemon juice to a blender. Blend until smooth. Set aside.
Scoop the solid layer from the cans of chilled coconut milk into a large bowl. Discard the liquid or save for another use. Add the powdered sugar and beat with an electric hand mixer until light and fluffy, 2-3 minutes.
Using a rubber spatula, fold the blended cashew mixture into the whipped coconut milk.
Make the soaking liquid: In a shallow bowl, combine the espresso, water, and rum. Alternatively, replace the espresso and water with 1½ cups (360 ml) of brewed coffee cooled to room temperature.
Assemble the tiramisu: Spread about a ½ cup (65 grams) of the mascarpone in the bottom of an 8-inch square baking dish. Quickly dip a ladyfinger in the espresso mixture and place on top of the cream. Repeat with more ladyfingers to cover the cream, 16-18 total. Carefully spread about 1 cup (130 grams) of the mascarpone over the ladyfingers, then add another layer of ladyfingers, another layer of cream, and a final layer of the remaining ladyfingers. Spread the remaining mascarpone cream on top.
Cover the baking dish with plastic wrap and refrigerate for at least 2 hours, or overnight.
Before serving, uncover the tiramisu and lightly dust the top with cocoa powder.
Slice into 9 portions and serve.
Enjoy!
Watch the recipe video here: