PICADILLO (INSTANT POT)
Picadillo is a Cuban recipe I grew up eating and is always on rotation in my house because it's the most requested dish by my kids and it's so easy to make.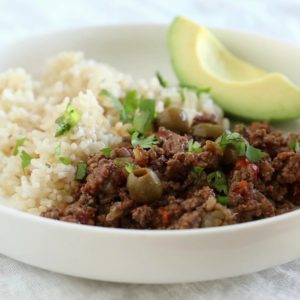 Ingredients
1-1/2 lb 93% lean ground beef
½ large chopped onion
2 cloves garlic, minced
1 to mato, chopped
1 teaspoon kosher salt
½ red bell pepper, finely chopped
2 tbsp cilantro
4 oz ½ can tomato sauce (I like Goya)
1 tsp ground cumin
1-2 bay leaf
2 tbsp alcaparrado, capers or green olives would work too
Instructions
Press saute button, when hot brown meat and season with salt and pepper. Use a wooden spoon to break the meat up into small pieces until no longer pink.
Add onion, garlic, tomato, salt, pepper and cilantro and stir 1 minute, add alcaparrado or olives and about 2 tbsp of the brine (the juice from the olives, this adds great flavor) cumin, and bay leaf. Add tomato sauce and 3 tablespoons of water and mix well. Cover and cook high pressure 15 minutes. Natural or quick release and enjoy!
Watch the recipe video here:
Instant Pot Picadillo. I converted this popular recipe for my Instant Pot! This is my #1 requested dish in my home by my…

Posted by Skinnytaste on Sunday, August 18, 2019