S'mores Cupcakes
Who said s'mores season ends when the summer ends?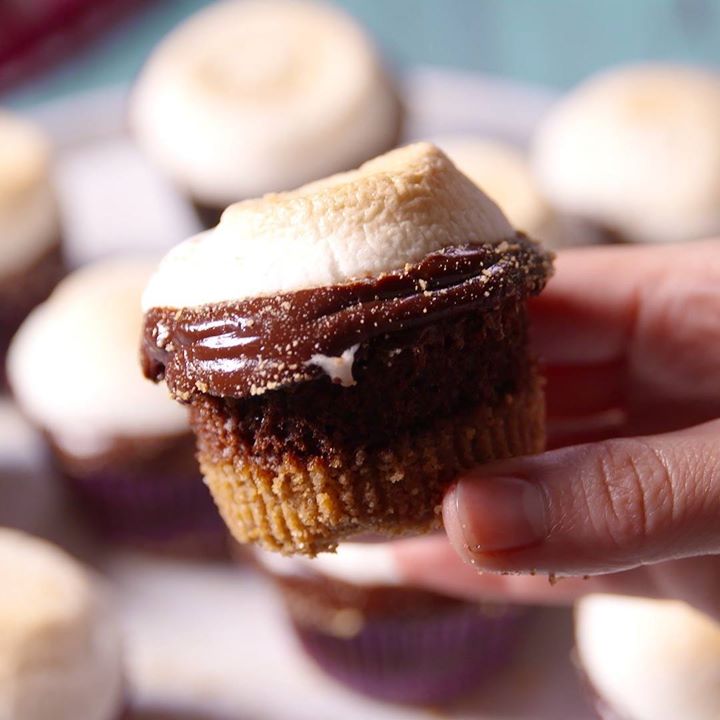 Ingredients
3 c. graham cracker crumbs (about 20 full sheet graham crackers)
12 tbsp. unsalted butter, melted
½ c. granulated sugar
pinch of salt
devil's food cake mix
1 c. chocolate chips
½ c. heavy cream
24 marshmallows
Instructions
Preheat oven to 350 degrees F. Line a two 12-cup muffin tins with cupcake liners.
Meanwhile, combine graham cracker crumbs, butter and sugar in small bowl. Press about 1 tablespoon of the mixture into each cupcake liner to make mini crusts.
Prepare cake mix according to box instructions. Divide batter between cupcake liners and bake for a couple minutes less than the box instructs, about 16 minutes.
While the cupcakes are baking, make a quick ganache. Place chocolate chips in a medium, heatproof bowl and set aside. Heat heavy cream in a small saucepan over medium heat. When bubbles begin to break the surface around the edges of the pan, turn off the heat. Pour the hot cream over chocolate chips, whisking constantly until the sauce is smooth.
When your cupcakes are almost done baking, pull them out and spoon about a tablespoon of ganache onto each cupcake then top each with a marshmallow. (If it feels unwieldy, place the marshmallow on its side.) Return the tray to the oven and bake—watching closely!—until the marshmallows are golden and very soft, 4-5 more minutes.
Watch the recipe video here:
These cupcakes prove you don't need a campfire to get your s'mores fix.Full recipe: http://dlsh.it/zHMauSJ

Posted by Delish on Wednesday, March 14, 2018