Chocolate Chip Cookie Dippers
Take a walk on the sweeter side.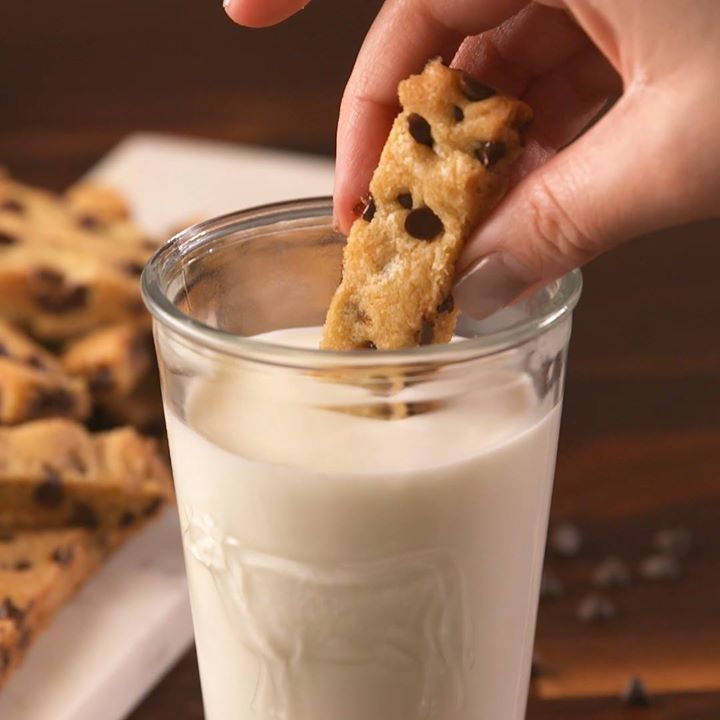 Ingredients
Cooking spray, for pan
½ c. (1 stick) unsalted butter, softened
¾ c. brown sugar
¼ c. granulated sugar, plus more for sprinkling
1 large egg
1 tsp. pure vanilla extract
1½ c. all-purpose flour
½ tsp. baking soda
½ tsp. kosher salt
1¼ c. mini chocolate chips, divided
Instructions
Preheat oven to 350°. Line a large baking sheet (about 9½"-x-14") with parchment paper, leaving an overhang on each side of the pan. Spray with cooking spray. In a large bowl using a hand mixer, beat butter and sugars until light and fluffy. Add egg and vanilla and beat until evenly combined. Add flour, baking soda and salt and mix on low until just combined. Fold in about ¾ cup chocolate chips.
Press the dough into pan into an even layer. Sprinkle remaining chocolate chips on top and press lightly. Bake until the edges are golden brown, about 15 minutes.
Let cool in pan for 10 minutes, then lift the cookie out of the pan and transfer to a wire rack to cool completely.
Use a pizza cutter or sharp knife to cut the cookie crosswise into long strips. Then cut the strips in half to make shorter sticks.
Watch the recipe video here: