Baked Oatmeal
Want to eat healthier but don't want to break the bank? Oatmeal is a great way to get both of these worlds to collide. Among many great health benefits, it's also a great time saver. Microwave for just a few minutes, add your toppings of choice and voila. This recipe bumps it up a couple notches by taking a bit more time to prepare but lasting all week for you to indulge in. Say goodbye to showing up at work hungry, at least for this week.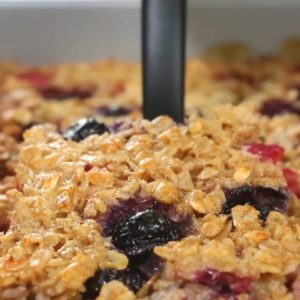 Ingredients
Dry Ingredients
3 Cups Old Fashioned Rolled Oats
¾ Cup Brown Sugar
1½ tsp Baking Powder
¾ tsp Ground Cinnamon
½ tsp Salt
Wet Ingredients
2 Eggs, beaten
2½ Cups Milk
1 tsp Pure Vanilla Extract
4 Tbsp Unsalted Butter or Coconut Oil, melted
Toppings
½ Cup Blueberries
½ Cup Blackberries
½ Cup Raspberries
½ Cup Strawberries, chopped
Instructions
Preheat oven to 350°F / 180°C.
Combine all dry ingredients and stir to mix well.
Spray 9×13 inch pan with non-stick cooking spray.
Pour half the oat mixture in the baking dish.
Sprinkle some of each berry on top of the oats.
Pour rest of the oat mixture on top of berries.
Whisk the wet ingredients together then pour over the oats.
Top the oats with the remaining berries and some more brown sugar.
Gently shake the baking dish back and forth to spread liquid evenly.
Bake uncovered for 40 minutes.
Serve immediately.
Watch the recipe video here: