Lemon Cheesecake Souffles
[Insert overused "when life hands you lemons" phrase here.]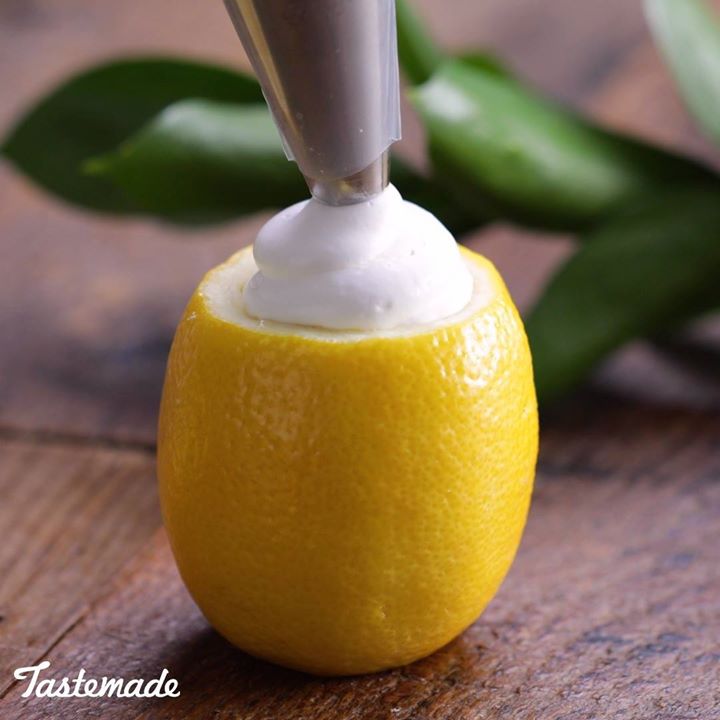 Ingredients
12 lemons
1½ cups lemon juice
¾ cup water, chilled
1½ tablespoons gelatin
1½ cups sugar
1 pinch salt
3 cups heavy cream, chilled
Blueberries, to garnish
Mint leaves, to garnish
Instructions
Using a melon baller and a paring knife, hollow out the lemons, reserving the insides in a large bowl.
Cut a small piece off the bottom of each hollowed lemon to allow it to sit flat, and place the lemons on a sheet tray.
Pour the reserved lemon slices and pith into a mesh strainer placed over a medium bowl. Press gently with a spatula to press the juice out of the lemon pieces.
To the lemon juice, add the chilled water and sprinkle the gelatin over the top. Allow to sit for a few minutes then transfer the mixture to a heavy-bottomed saucepan. Add the sugar and salt and cook over medium-low heat until the sugar is completely dissolved. Set aside and allow mixture to cool to room temperature.
In a medium bowl, whip heavy cream until it reaches soft peaks. Add the lemon juice mixture and use a hand mixer to combine. Transfer filling to a pastry bag, and pipe some into each hollowed out lemon.
Garnish with blueberries and mint, and enjoy.
Watch the recipe video here:
[Insert overused "when life hands you lemons" phrase here]Taste for Yourself: taste.md/2qDFyck

Posted by Tastemade on Tuesday, April 17, 2018