Sugar Cookie "Pizza"
Sugar Cookie "Pizza"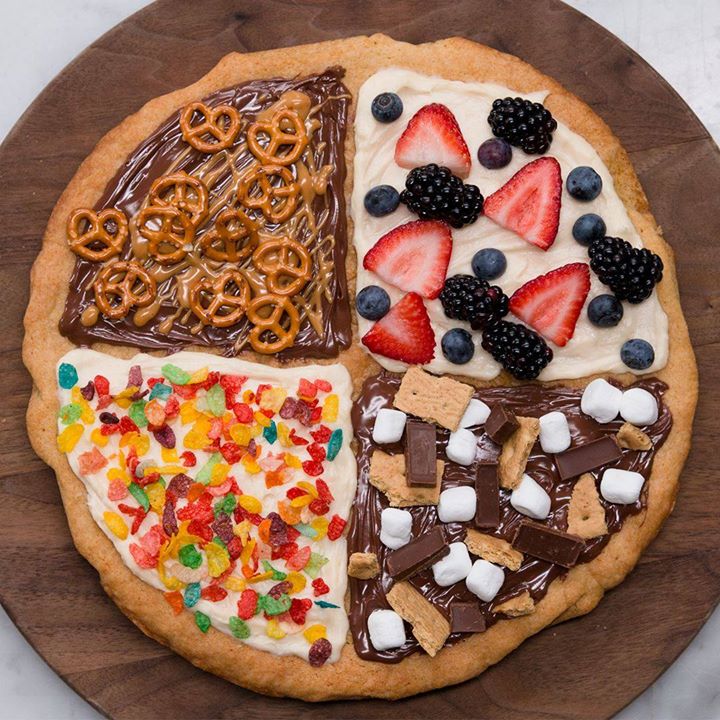 Ingredients
½ cup (115 g) unsalted butter, 1 stick, softened
1 ½ teaspoons vanilla extract, divided
½ cup (100 g) granulated sugar
3 tablespoons light brown sugar
1 large egg, room temperature
1 ½ cups (60 g) all-purpose flour
1 teaspoon cream of tartar
½ teaspoon baking soda
1 pinch salt
6 oz (170 g) cream cheese, room temperature
⅓ cup (50 g) powdered sugar
⅓ cup (95 g) chocolate hazelnut spread
OPTIONAL TOPPINGS
fresh berries
peanut butter
mini pretzel
fruit cereal
mini marshmallows
graham cracker, chopped
chocolate chunk
Instructions
Preheat the oven to 350˚F (180˚C). Line a 10-inch (25-cm) cast iron pan with parchment paper.
In a large bowl, mix the butter with 1 teaspoon of vanilla extract until light and fluffy.
Add the granulated sugar, then the brown sugar, and mix until well incorporated.
Add the egg and stir until thoroughly incorporated.
Using a fine mesh sieve, sift the flour, cream of tartar, baking soda, and salt into the dough. Combine with a spatula until evenly mixed.
Spread the cookie dough in an even layer in the prepared pan. Chill in the fridge for 30 minutes, then bake for 15-18 minutes until lightly golden. Let cool.
In a medium bowl, combine the cream cheese, powdered sugar, and remaining ½ teaspoon of vanilla extract until well incorporated.
Spread half of the frosting onto a quarter of the cooled cookie and the other half on the diagonally opposite corner.
Frost the other quarters with the chocolate hazelnut spread.
Decorate with your favorite toppings.
Enjoy!
Watch the recipe video here:
How would you top your sugar cookie "pizza"?! ❤️FULL RECIPE: https://tasty.co/recipe/sugar-cookie-pizza

Posted by Tasty on Tuesday, April 17, 2018