Ice Cream Poke Cake
We've all seen poke cakes and are always enamoured by the ease an deliciousness of them. This ice cream poke cake takes it to the next level and is a perfect summer treat!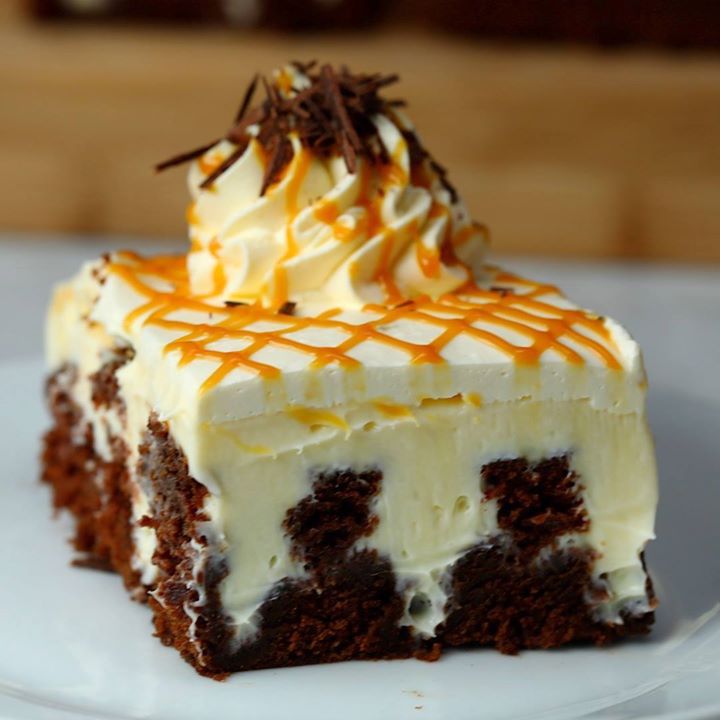 Ingredients
¾ cup + 2 tbsp flour
1 cup sugar
6 tbsp cocoa powder
1 tsp baking soda
½ tsp baking powder
½ tsp salt
½ cup buttermilk
¼ cup oil
1 egg
1 tsp vanilla
½ cup fresh coffee
2 cups heavy cream
10ml vanilla essence
1 can sweetened condensed milk
Caramel sauce
Chocolate shavings
2 cups whipped cream
Instructions
Preheat oven to 160ºC (325ºF). Line a 11x7 cake pan with butter and baking paper to come up the edges.
In a large bowl, whisk flour, sugar, cocoa, baking soda, baking powder, and salt. Whisk in egg, milk, oil and vanilla until combined. Pour in coffee and stir gentle to incorporate until smooth. Pour into prepared tin and bake for 25- 30 minutes.
While cake is baking, make ice cream topping. Whip the heavy cream and vanilla to stiff peaks. Fold in condensed milk. Set aside.
When cake is done, let cool completely. Using the back of a wooden spoon, poke holes into the cake. Pour the ice cream filling over top and spread evenly.
Freezer for 4 hours to set.
Spread whipped cream over top and pipe extra into rosettes for garish. Drizzle with caramel and sprinkle chocolate shavings.
Serve immediately. Enjoy!
Watch the recipe video here:
Ice Cream Poke Cake

Posted by Twisted on Tuesday, May 22, 2018