Christmas Cake Cookies
Tag someone you love to bake cookies with! ?❤️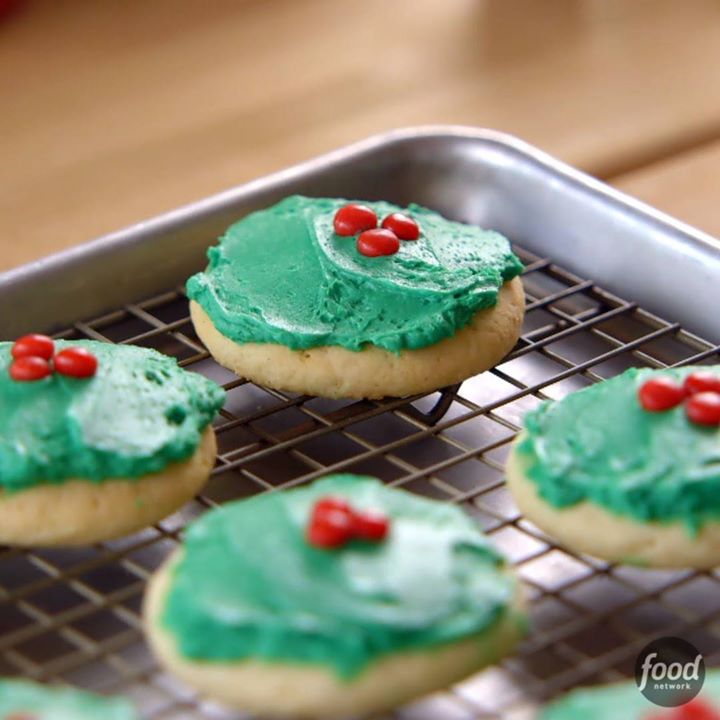 Ingredients
Cookie:
3 cups all-purpose flour, plus more for flouring
½ teaspoon baking powder
½ teaspoon baking soda
¼ teaspoon kosher salt
1 cup granulated sugar
4 tablespoons (1/2 stick) salted butter, softened
¼ cup shortening, softened
2 large eggs
1 teaspoon vanilla extract
Seeds from ½ vanilla bean
¾ cup sour cream
Frosting:
8 tablespoons (1 stick) salted butter, softened
1 teaspoon vanilla
2 cups powdered sugar
Pinch of kosher salt
2 to 4 tablespoons heavy cream
18 drops green gel paste
72 cinnamon imperials, for topping
Instructions
Special equipment: a 2½-inch round cutter
For the cookie: Whisk together the flour, baking powder, baking soda and salt in a bowl.
In the bowl of a stand mixer with the paddle attachment, cream together the granulated sugar, butter and shortening. Add the eggs 1 at a time, mixing well between additions. Add the vanilla extract and vanilla seeds and mix well. Add the sour cream and mix until just combined. Add the dry ingredients to the wet ingredients and beat on low until just mixed through; the dough will be sticky. Shape into a rectangle and wrap in plastic wrap. Refrigerate for a couple of hours or overnight.
When ready to bake, preheat the oven to 350 degrees F. Line 2 baking sheets with parchment or silicone baking mats.
Roll out the dough on a floured surface about ¼ inch thick and cut into 2½-inch rounds. Place the rounds on the prepared baking sheets. Bake until the cookies are puffed and cooked through but have not taken on any color, 13 to 15 minutes. Remove the cookies to a wire rack to cool.
For the frosting: When ready to decorate, make the frosting. In the bowl of a stand mixer with the paddle attachment, cream the butter and vanilla until smooth. Slowly add the powdered sugar and salt and beat on medium until smooth and fluffy. Add the heavy cream 1 tablespoon at a time until the frosting is fairly thick. Add the gel paste and stir to evenly combine.
Use a butter knife to spread the frosting on the cookies, then decorate with 3 cinnamon imperials in the center of each cookie. Leave overnight to set.
Watch the recipe video here: