Mixed Berry Millefeuille With Mascarpone Cream
Layered between flaky sheets of pastry, rich mascarpone cream and mixed berries this Millefeuille is the perfect drool-worthy dessert.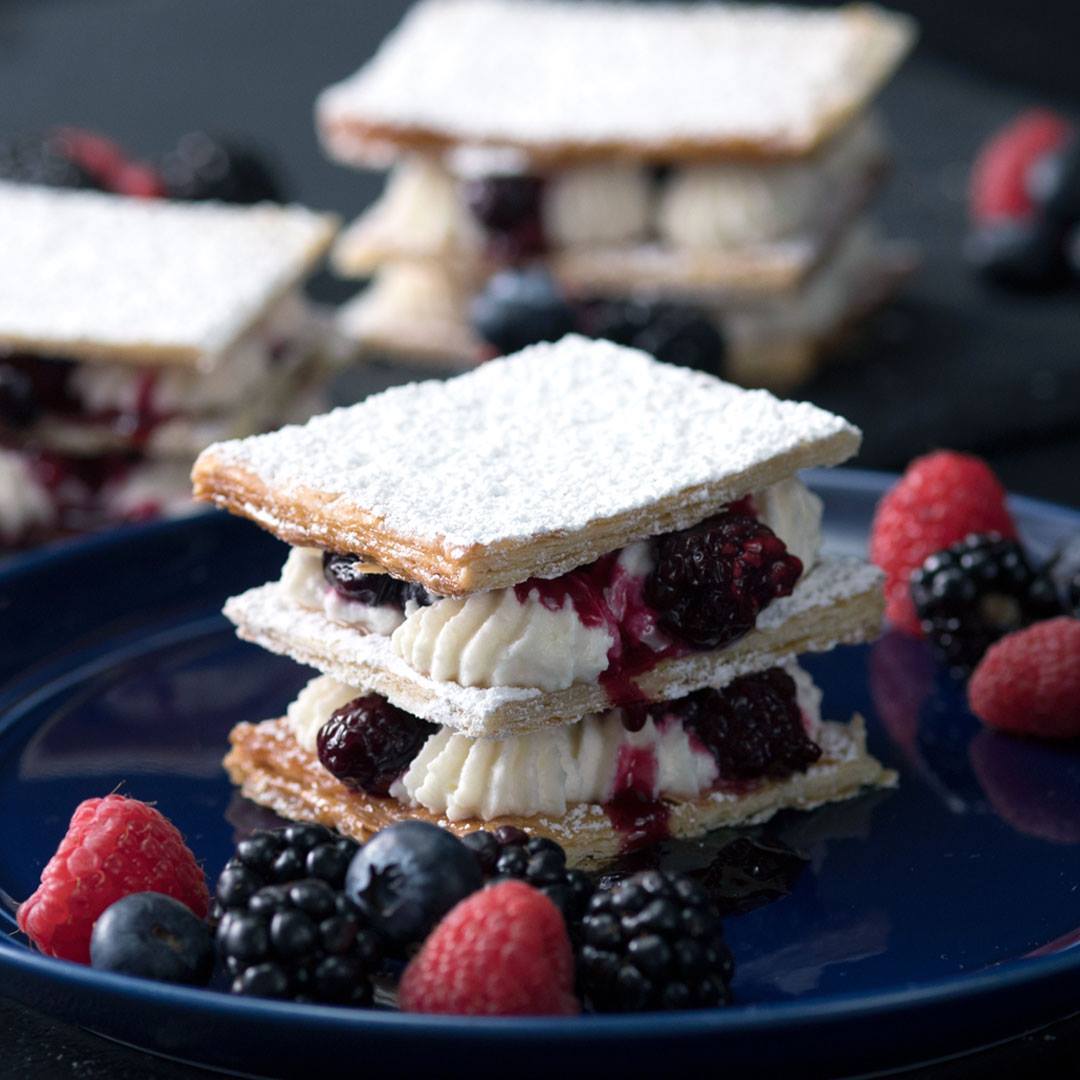 Ingredients
1 frozen puff pastry sheet, thawed
¼ cup plus 2 tablespoons granulated sugar, divided
2 cups fresh mixed berries, fresh or frozen
1 lemon, zested
1 tablespoon lemon juice
For the cream:
4 ounces mascarpone cheese
¼ cup powdered sugar, plus more for dusting
½ teaspoon vanilla extract
1 cup heavy cream
Instructions
For the puff pastry:
Preheat oven to 425 degrees. Line a large baking sheet with parchment paper.
Unfold the pastry onto the parchment-lined baking sheet. Sprinkle with 2 tablespoons sugar and then add another layer of parchment paper on top. Place another heavier pan on top of the parchment-covered pastry.
Bake for 10 minutes until puffed and just slightly brown. Reduce the heat to 375 degrees and bake for 20 minutes until crispy and a deep golden brown.
Remove from oven and let cool completely on a wire rack. Cut into 3 large equal rectangles, then each rectangle into 3 rectangles. You should have 12 rectangles total.
For the berry filling:
In a medium saucepan over medium-low heat, place mixed berries, remaining sugar, lemon juice and zest. Simmer for 5 to 7 minutes until berries have just started to break down.
Drain berries in a sieve over a medium bowl to catch all the juices. Set the berries aside to cool. Return berry juice to the saucepan on medium heat for about 6 to 8 minutes or until the juice thickens. Set aside to cool.
For the mascarpone cream:
In a large mixing bowl using the whisk attachment, combine the mascarpone cheese and powdered sugar on high until smooth and combined.
With the mixer turned to low, pour in the vanilla and heavy cream. Slowly increase the speed to high until stiff peaks form. Place in a pastry bag and keep refrigerated until ready to use.
To assemble:
Just before serving, assemble the millefeuille. Dust the puff pastry rectangles with powdered sugar. Place one rectangle of puff pastry on a serving plate. Pipe a layer of mascarpone cream onto the puff pastry. Top with a thin layer of berries and drizzle with a small amount of fruit syrup. Place another puff pastry on top and repeat with piping mascarpone, spooning fruit, and drizzling syrup. Place a third puff pastry on top. Repeat entire process to make 4 servings.
Watch the recipe video here:
Your mama made you, the least you can do is make her this.Taste for Yourself: taste.md/2FFMDhc

Posted by Tastemade on Monday, June 4, 2018