The Chocolate Cake For Chocoholics
A chocoholics' dream comes true! Your best chocolate fix is a cake away!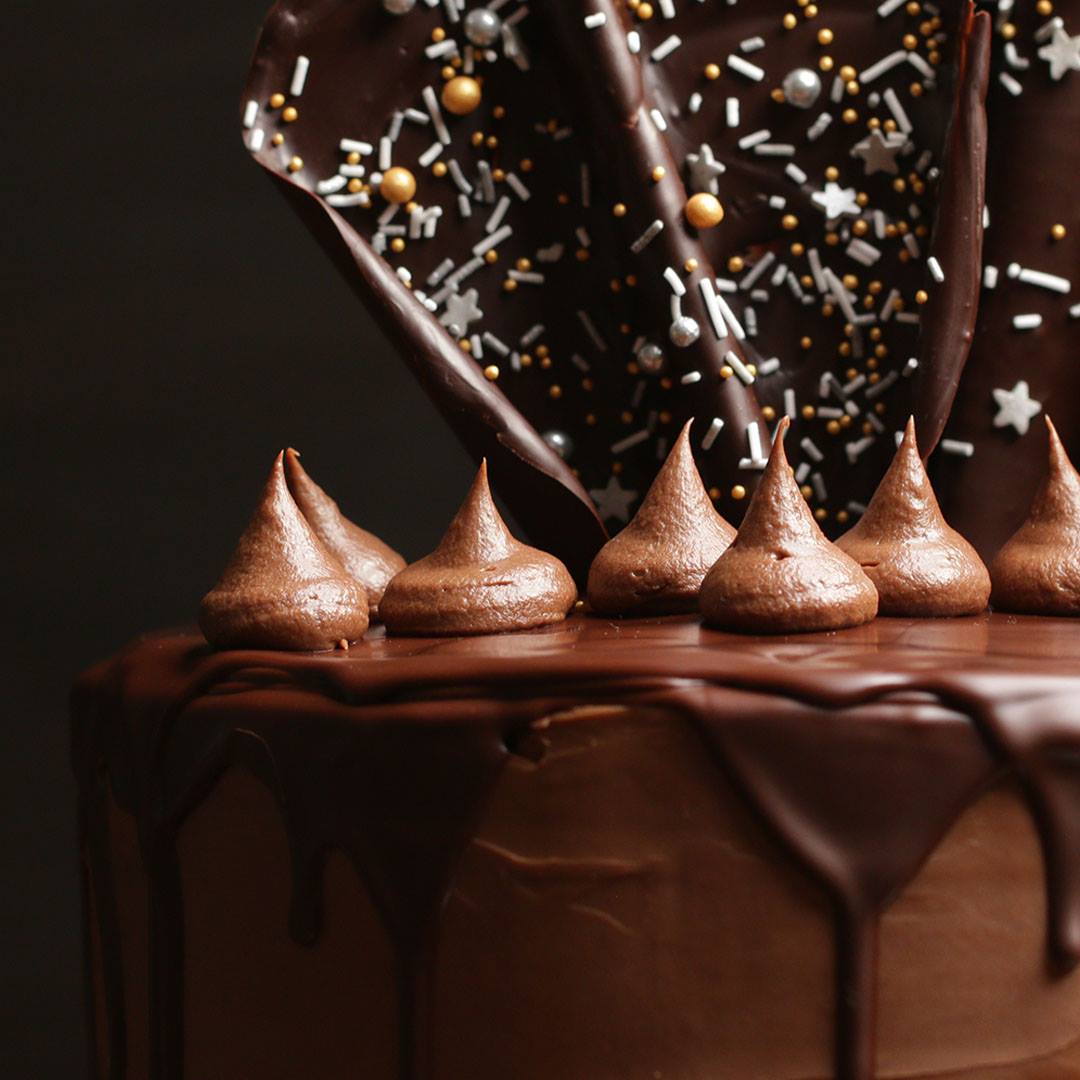 Ingredients
300 grams self-raising flour
1 teaspoon baking powder
2 teaspoon bicarbonate of soda
1 teaspoon salt
70 grams cocoa
3 teaspoon espresso powder
300 millilitres hot water
2 teaspoon vanilla extract
150 grams Dr. Oetker extra dark baking chocolate, chopped
150 grams Dr. Oetker milk chocolate baking chocolate, chopped
250 grams unsalted butter
300 grams brown sugar
4 eggs, beaten
Chocolate ganache
4 packets Dr. Oetker milk baking chocolate
300 millilitres double cream
Chocolate Drip
300 grams extra dark chocolate
200 grams unsalted butter
To decorate
Instructions
Preheat the oven to 160°C and grease an line 4 cake tins.
Start by sieving the flour, baking powder, bicarbonate of soda, salt, and cocoa powder into a large bowl and set aside.
Next prepare the espresso by placing the espresso powder into a measuring jug and add the hot water and vanilla extract. Stir to combine an set aside to cool.
Now make a bain-marie by placing a small pan of water over a medium heat and bring to a simmer. Place a large heatproof bowl over the top of the saucepan, making sure the bottom of the bowl does not come in contact with the water. Add 150 grams of extra dark chocolate and 150 grams of milk chocolate to the bowl and leave to melt, making sure to stir every now and then. Once it's melted, carefully remove the bowl from the pan and set aside to cool.
Meanwhile, start on your chocolate sponge by placing the butter and sugar in a large bowl. Using an electric hand whisk, cream the butter and sugar until pale and fluffy.
Next add your beaten eggs in four parts, mixing well in between. (If your mixture starts to curdle, simply add a tablespoon of your dry ingredients with every addition of egg.)
Add your cooled, melted chocolate and stir to combine.
Next add your dry ingredients and espresso liquid in thirds alternately, starting with your dry ingredients and mixing well in between each addition.
Using a spatula scrape down the sides of the bowl to make sure the mixture is fully combined and divide between your 4 cake tins. Place in the oven 18–20 minutes or until a skewer comes out clean when inserted.
Once cooked, remove from the oven and leave in the tins for 10 minutes before turning out the tins. Then carefully turn out onto a wire rack and leave to cool thoroughly.
Meanwhile, start to create your ganache. Chop the chocolate into small chunks and place in a large bowl. Set side.
Place a small saucepan over a low-medium heat and add the cream. Heat until just starting to simmer and pour straight over the chocolate. Leave the sit with the chocolate for around 15 seconds before stirring. You may want to give the bowl a little shake to encourage the cream down into the chocolate. Then stir until all the chocolate has melted and you achieve a silky smooth ganache.
Cover and place into the fridge for 10–15 minutes, as soon as your ganache starts to firm slightly you are ready to assemble your cake!
Now all that's left to do is sandwich your layers with a generous layer of ganache, and adorn the outside of the cake with the beautiful chocolate ganache. We finished ours with a white chocolate top for that extra wow factor! Serve and enjoy!
Sail instructions
Take a rectangular shaped piece of greaseproof paper that resembles the size of sail you would like to achieve.
Place down facing the length away from you.
Fold one side into 1 inch pleats, making sure to only fold and press down halfway across the paper.
Unfold the pleats and thinly spread the chocolate over the paper that has not been folded. (Make sure the chocolate is not spread too thinly but thick enough so it does not snap on removing the grease-proof paper.)
Next fold the pleats back up on the one side and peg in place.
Sprinkle or decorate as desired at this point and leave to dry.
Once the chocolate is set, remove the peg and carefully remove the grease-proof paper.
Place on your cake and enjoy your work!
Cake decoration instructions
Using a palette knife spread a small amount of ganache onto the cake stand and place your first cake layer on top.
Add a good dollop or ganache on top of the cake and spread into one even layer. Then place your next sponge on top. Repeat with all layers of cake.
When you get to your top layer, place a generous amount of ganache on top and spread over the into one even layer. As you do this, encourage excess ganache over the sides and down the sides of the cake.
Next using your palette knife take small amounts of ganache and fill in between each layer of cake, smoothing over as you go.
Once you have filled any gaps over the sides of the cake, start to add more ganache over the sides and neatly smooth over using a long palette knife. (A good tip here is to have a hot jug of water and continually warm and clean off the palette knife in between each smoothing of the cake.)
Once you have smoothed over the sides, neaten the top edging of the cake by bringing any untidy edges towards the centre of the top of the cake then smooth over the top of the cake.
All that's left to do is top the cake with your chosen decorations and enjoy!
Watch the recipe video here: