Marbled Meringue Hearts
Pretty pastel cookies are a fun way to brighten any special occasion. Replace the vanilla with a different extract for a change of flavor. —Laurie Herr, Westford, Vermont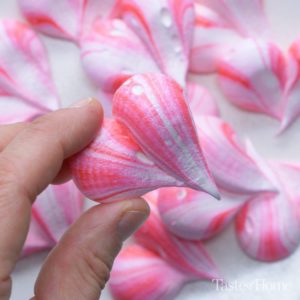 Ingredients
3 large egg whites
½ teaspoon vanilla extract
¼ teaspoon cream of tartar
Food coloring, optional
¾ cup sugar
Instructions
Place egg whites in a large bowl; let stand at room temperature for 30 minutes. Line baking sheets with parchment paper.
Preheat oven to 200°. Add vanilla and cream of tartar to egg whites; beat on medium speed until soft peaks form. Gradually beat in sugar, 1 tablespoon at a time, on high until stiff peaks form. Remove ¼ cup and tint pink. Lightly swirl pink mixture into remaining meringue. Fill pastry bag with meringue. Pipe 2-in. heart shapes 2 in. apart onto prepared baking sheets.
Bake until set and dry, about 20 minutes. Turn oven off; leave meringues in oven until oven has completely cooled. Store in an airtight container.
Watch the recipe video here: