Oatmeal Chocolate Fudge Bars
I don't know about you guys, but I grew up getting treated to fudge on special occasions. To me, fudge is not worth splurging on unless it's TOTALLY worth it. The super-rich chocolate with the peanut butter flavors…you can't go wrong! Once you realize how easy it is to make this delicious fudge, you will be able to treat your family and friends to it any time you like!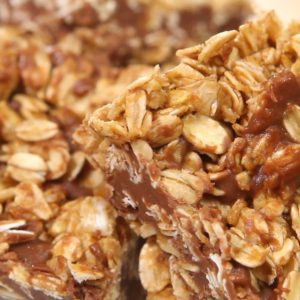 Ingredients
2¾ CUP Quick oats
½ tsp Salt
½ CUP Pure maple syrup
¼ CUP Peanut butter
1 Tbsp Water
1 tsp Pure vanilla extract
5 oz Chocolate chips
½ CUP Peanut butter
Instructions
Line an 8×8 pan with parchment or wax paper, and set aside.
Stir together the maple syrup, ¼ cup peanut butter, water, and vanilla until smooth.
Stir in the oats and salt.
Transfer about ⅔ of the mixture to the pan, and press down very well, using a second sheet of parchment to press it evenly into the bottom of the pan.
In a separate bowl, carefully melt the chocolate and ½ cup peanut butter.
Stir until smooth. Pour this evenly on top of the crust in the pan. Sprinkle the remaining oat crumbles on top of the chocolate layer, then press down.
Refrigerate or freeze until firm enough to cut squares.
Enjoy!
Watch the recipe video here: