Giant Stuffed Chocolate Chip Cookie
How can you possibly make a giant chocolate chip cookie better? By stuffing it with a layer of Nutella, that's how.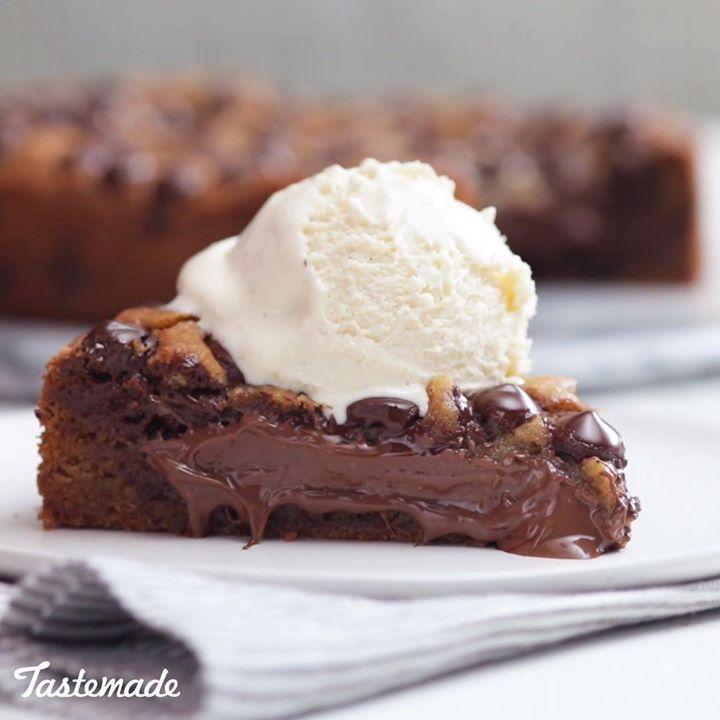 Ingredients
1 cup unsalted butter
1 cup light brown sugar
½ cup granulated sugar
1 large egg
2 teaspoons pure vanilla extract
2¼ cups all-purpose flour
1 teaspoon baking soda
½ teaspoon kosher salt
12 ounces bittersweet chocolate chips, plus ⅔ cup for topping
1 cup Nutella
Ice cream, to serve
Instructions
Heat oven to 350 degrees.
Using a mixer fitted with the paddle attachment, cream butter and sugars together until very light, about 5 minutes. Add egg, mixing well. Stir in the vanilla. Stop the mixer and add flour, baking soda and salt. Mix until just combined, then stir in chocolate chips on low speed.
Spray a 9-inch springform pan with nonstick spray. Add half of the cookie dough to the bottom of the prepared pan and pat down to form an even layer. Spread Nutella on top, leaving a 1-inch border. Spread the rest of the cookie dough on top in an even layer. Pat down. Dot with another ⅔ cup of chips.
Bake for 30 minutes. If cookie begins to get dark, cover with foil, being careful not to touch the chips on top, and bake for 5 more minutes. Cool in the pan for 15 minutes before slicing. Top with ice cream, if desired.