Creamy Crispy Cajun Shrimp Pasta
Inspired by the famous po' boy sandwiches of America's deep south, this pasta is succulent with fried shrimp in a spicy batter, creamy with strands of the finest linguine, resplendent with the brightness of parsley and diced peppers.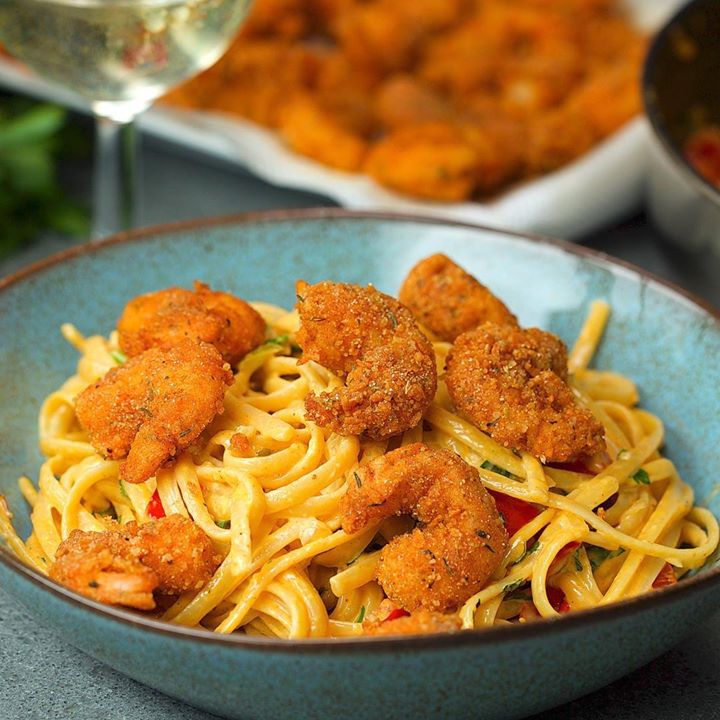 Ingredients
For the shrimp:
¾ cup flour
½ cup fine corn meal
2 tsp paprika
1 tsp cayenne pepper
1 tsp garlic powder
1 tsp onion powder
¾ cup buttermilk
1 large egg, beaten
1 litre groundnut oil
1.2 lb raw shrimp
For the pasta
1 tbsp oil
1 white onion, diced
3 mixed peppers, diced
3 cloves garlic
1 tsp paprika
1 tsp cayenne
1 tsp black pepper
1 tsp salt
1½ cups double cream
Cooked linguine
Roughly chopped parsley
Instructions
Whisk together all the dry ingredients for the shrimp then whisk the buttermilk and eggs together in a separate bowl.
Dip the prawns by the tail into the buttermilk then dust them in the flour and spice mix.
Heat the oil to 170°C and fry in batches of 6/7 for around 2 minutes until they are all crispy, then lay on sheets of kitchen paper to drain.
Meanwhile, fry the peppers and onions in the oil until soft, then stir in the garlic. Sprinkle with paprika, cayenne, black peppers and salt. Pour the cream in and stir, then bubble away to thicken.
Add the cooked pasta and parsley then stir together.
Serve with the crispy prawns.
Watch the recipe video here: