Ultimate Oreo Fudge Brownie Bars
The fudging ultimate Oreo brownie dessert!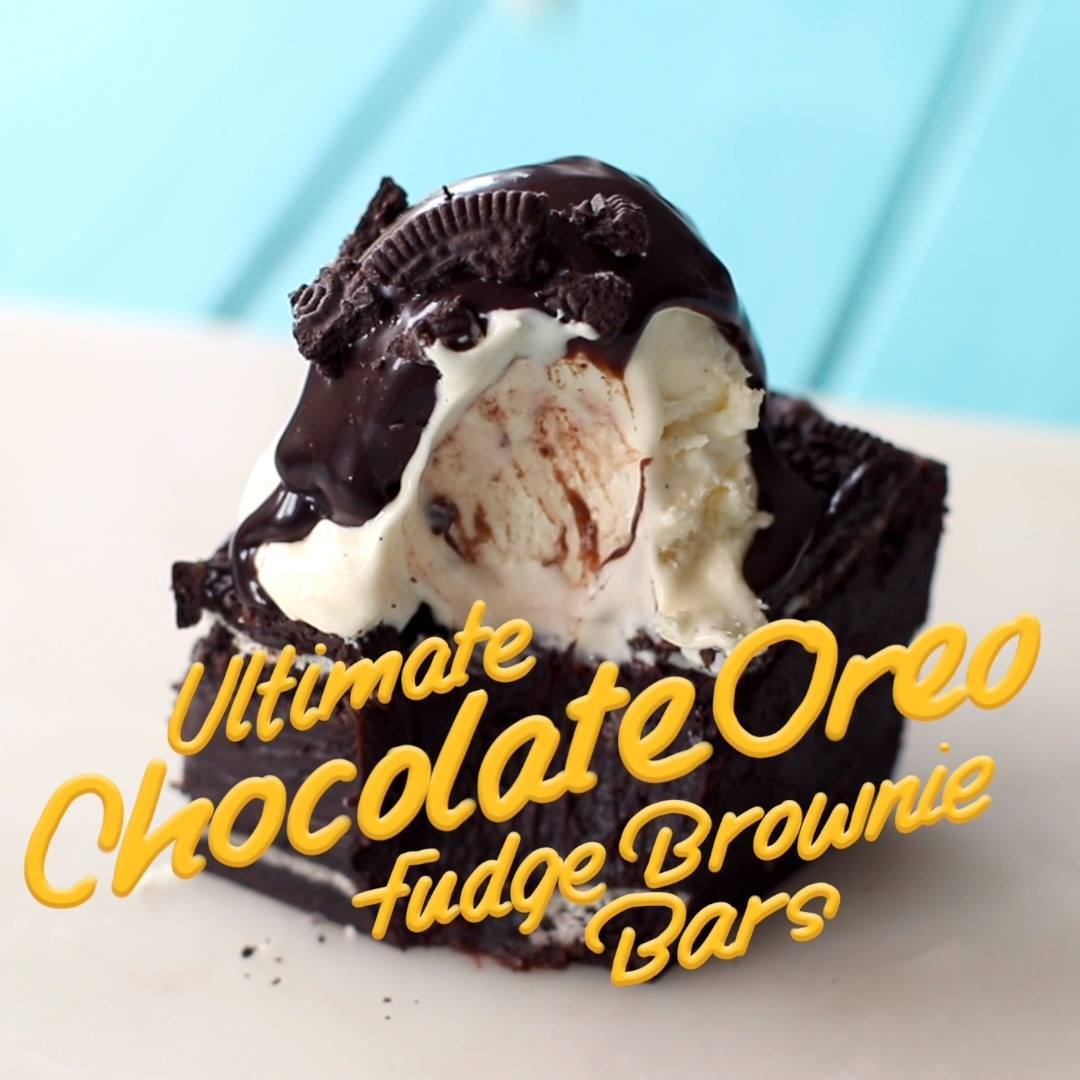 Ingredients
Brownies
75g plain flour
75g cocoa
300g castor sugar
300g butter
300g chocolate
6 eggs
2 pkts Oreos
Ice Cream
700ml thickened/whipping cream
½ cup powdered sugar
1 tsp vanilla bean paste
Fudge sauce
200gm good quality dark chocolate
25g butter
25g brown sugar
125ml cream
Instructions
Fudge sauce
Add all the ingredients into a large microwave safe bowl and microwave for 20 seconds at a time, mixing each time until smooth. Any left-over sauce can be stored in an air tight container for up to 3 months.
Ice Cream
Add cream, powdered sugar and vanilla bean paste into a large mixing bowl and whip to stiff peaks using a hand mixer.
Transfer cream mixture to a deep baking dish. Freeze for at least 2-3 hrs.
Brownies
Preheat a fan forced oven to 175C (340F). Spray a 10 by 7 inch square pan with non stick cooking spray and lay the bottom with parchment paper. Set aside.
Add butter and chocolate to a microwave safe bowl. Microwave for 20 seconds at a time and repeat until it becomes smooth.
Add flour, eggs, sugar to a large mixing bowl and mix on low speed using the paddle attachment or a wooden spoon until everything is combined.
Slowly add chocolate and butter mixture while mixing on low speed.
Add a thin layer of batter to baking tin lined with baking paper and then add a layer of oreos. Then add the rest of the brownie batter and add a final layer of oreos on top. Bake for 30 min or until a pick comes out with moist crumbs.
To assemble cut the brownies into 8 pieces. Scoop some vanilla bean ice cream and place on top of each piece. Drizzle with fudge sauce before serving.
Watch the recipe video here: