Cheesecake Cookies
Small bites of heaven.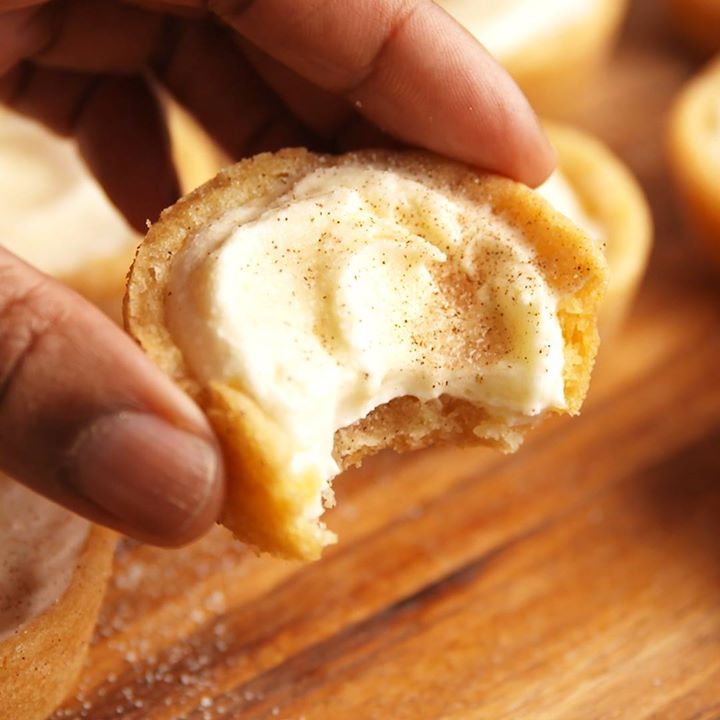 Ingredients
Cooking spray, for pan
1 16.5-oz. tube sugar cookie dough
½ c. cinnamon sugar
6 oz. cream cheese, softened
¼ c. sugar
½ tsp. vanilla
pinch of salt
6 oz. cool whip
Instructions
Preheat oven to 350° and grease two 12-cup muffin with cooking spray. Slice the cookie dough into 20 portions, then press each disc of dough into a muffin cup, patting the sides down gently to form a well.
Sprinkle with cinnamon-sugar and bake for 10 to 12 minutes, or until the cookies are lightly golden.
As soon as they're out, use a shot glass (sprayed with cooking spray) to gently press down the center of each cookie. Set tray aside to cool for at least 20 minutes. Remove from baking tray to cool completely on wire rack.
Meanwhile, make cheesecake filling. In a large bowl using a hand mixer, beat cream cheese, sugar, vanilla and salt until smooth. Gently fold in Cool Whip.
Spoon filling into cooled cookie cups, smoothing the top with an offset spatula and serve.
Watch the recipe video here: