Oreo Marshmallow Brownies
Oreo. Marshmallow. Brownies. Need I say more?! These bad boys are so delicious and packed full of flavor! I mean…who doesn't love brownies mixed with marshmallow and Oreos?!? I'm fully confident in knowing that after you try these, they will be your new favorite dessert!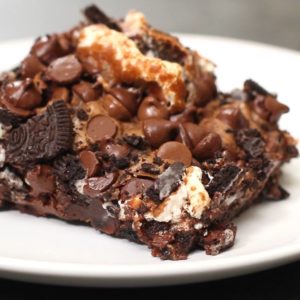 Ingredients
1 Box Brownie mix
16 Oreos, broken into chunks
1 CUP Marshmallow fluff
1 CUP Milk chocolate chocolate chips
4 Oreos, crushed
Instructions
Preheat oven to 350°F.
Line a 9×13 baking pan with foil and spray with non-stick baking spray.
Make the brownie mix according to the package directions. Spread ½ the batter in the prepared pan.
Drop the marshmallow fluff by spoonfuls over the brownie batter.
Sprinkle the Oreo cookie chunks over the top.
Spread the remaining brownie batter over the top.
Bake for 28-30 minutes.
Cool completely.
Enjoy!
Watch the recipe video here: