Easy Chicken with Mushrooms and Zucchini in Cream Sauce
A quick and easy dinner with chicken breast, zucchini, and mushrooms that is one of my go-to recipes midweek because it is ready in under 30 minutes.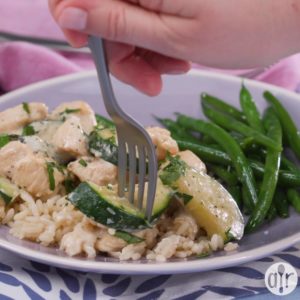 Ingredients
1 tablespoon butter
2 (5 ounce) boneless, skinless chicken breasts, cubed
salt and freshly ground pepper to taste
1 tablespoon olive oil
4 green onions, chopped
2 green zucchini, cut in half lengthwise and into ¼-inch slices
8 large fresh mushrooms, sliced
1 tablespoon all-purpose flour
¾ cup heavy whipping cream
1 tablespoon chopped fresh parsley
Instructions
Melt butter in a skillet over medium heat and cook chicken until slightly browned, stirring frequently, 5 to 7 minutes. Season with salt and pepper and transfer to a plate. Cover with foil or a bowl to keep warm.
Heat olive oil in the same skillet over medium heat and cook green onions until soft, about 2 minutes. Add zucchini slices and cook until softened, about 5 minutes. Add mushrooms and stir to combine. Return chicken to the skillet and sprinkle with flour. Stir in cream and cook until sauce has thickened, 3 to 5 minutes. Sprinkle with chopped parsley.
Watch the recipe video here: