General Tso's Chicken Roll
General Tso's Chicken Roll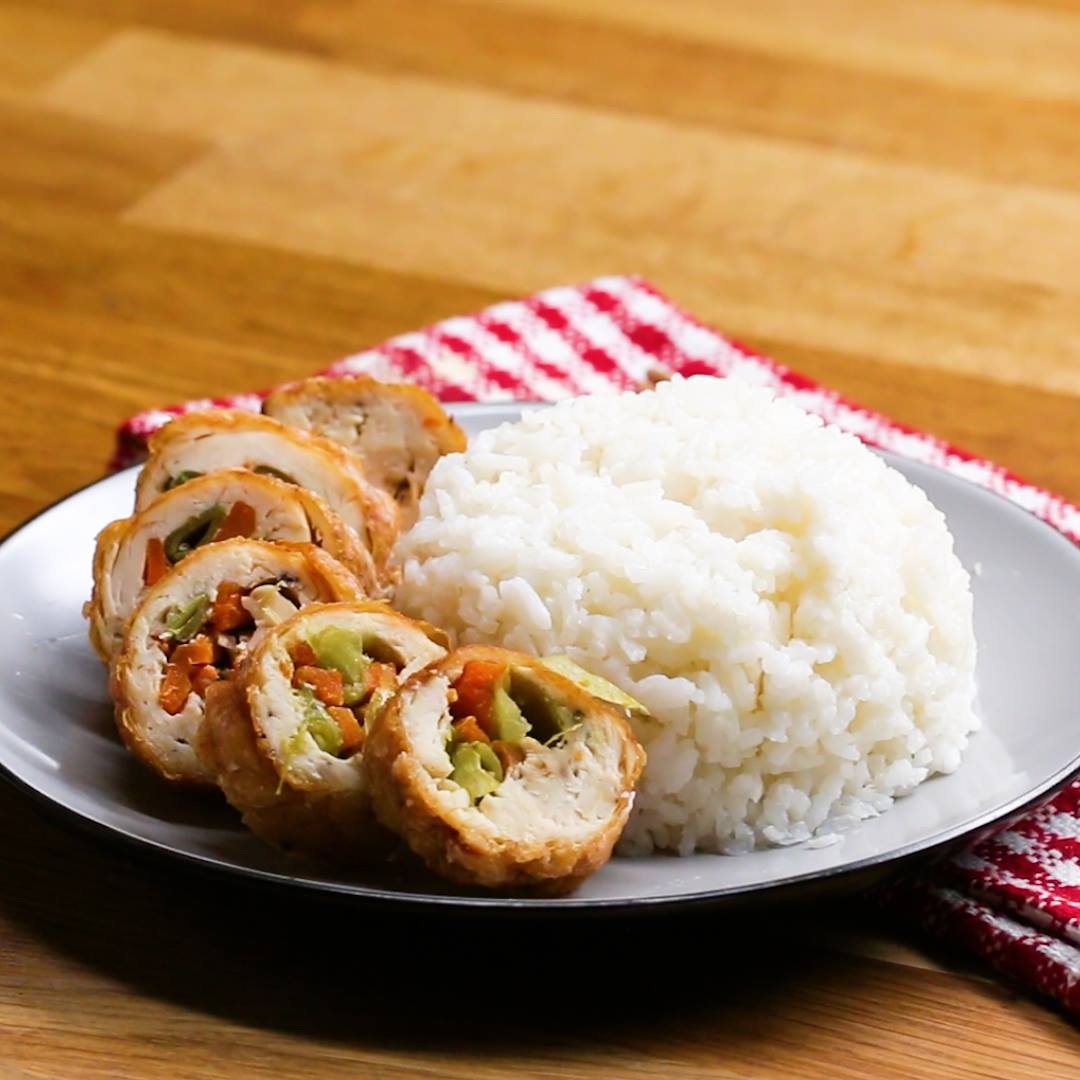 Ingredients
3 chicken breasts
salt, to taste
pepper, to taste
12 snap peas
1 medium carrot, thinly sliced
1 teaspoon sesame oil
4 cloves garlic, minced
fresh ginger, chopped
2 cups chicken stock (480 mL)
¼ cup sugar (50 g)
1 teaspoon chili flakes
1 tablespoon rice vinegar
1 tablespoon dark soy sauce
1 tablespoon tomato paste
2 teaspoons cornstarch, mixed with 2 teaspoons of water
5 cups canola oil, for frying (1.2 L)
1 cup corn starch (125 g)
white rice, cooked, for serving
1 tablespoon sesame seeds, for garnish
¼ cup scallions, sliced, for garnish (25 g)
Instructions
Place a chicken breast between 2 sheets of plastic wrap. Pound evenly to about ¼-inch (½ cm) thick, then season both sides with salt and pepper.
Place 4 snap peas and a few carrot slices at the bottom edge of the chicken, then roll up tightly and wrap in plastic wrap. Repeat with the remaining chicken and vegetables.
Chill the chicken rolls in the refrigerator for at least 30 minutes.
Heat the sesame oil in a medium saucepan over high heat. Add the garlic and ginger and cook until they are toasty.
Add the chicken stock, sugar, chile flakes, rice vinegar, soy sauce, tomato paste, and cornstarch slurry and whisk to combine.
Cook until the sauce coats the back of a spoon and leaves a path when you run your finger through it. Remove from the heat and set aside.
Heat the oil in a large pot until it reaches 350°F (180°C).
Unwrap the chicken, then roll in the cornstarch until evenly coated.
Fry two chicken rolls at a time for 5 minutes on each side, or until golden brown and the internal temperature reaches 165°F (75°C).
Transfer the chicken to a wire rack to drain. If the chicken is not cooked through by the time it is golden brown on the outside, bake in the oven at 325°F (170°C) until that temperature is reached.
Slice the chicken rolls and serve with rice alongside. Pour the sauce over the chicken and sprinkle with sesame seeds and scallions for garnish.
Enjoy!
Watch the recipe video here:
A delicious classic, with a new twist!FULL RECIPE: https://tasty.co/recipe/general-tso-s-chicken-roll

Posted by Tasty on Monday, October 1, 2018