Slow-Cooker Chicken Tacos
Slow-Cooker Chicken Tacos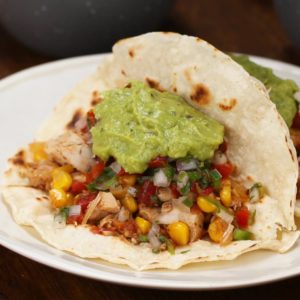 Ingredients
1 onion, thinly sliced
1 cup corn (175 g)
1 can diced tomato, drained
1 large jalapeño, deseeded and diced
4 cloves garlic, minced
1 lime, juiced
6 boneless, skinless chicken thighs
corn tortillas, as desired
guacamole, as desired
salsa, as desired
TACO SEASONING
2 teaspoons cumin
2 teaspoons oregano
1 ½ teaspoons paprika
1 teaspoon chili powder
½ teaspoon black pepper
salt, to taste
Instructions
In a small bowl, combine the cumin, oregano, paprika, chili powder, pepper, and salt and stir to combine. Set aside.
Place the onion, corn, tomatoes, jalapeño, garlic, and lime juice in a large slow cooker.
Place the chicken thighs on top of the veggies and season with half of the taco seasoning. Turn the chicken over and season with the remaining taco seasoning before mixing the chicken and veggies together so that everything is well combined.
Cook on the high setting for 3 hours or the low setting for 6 hours, until the chicken is cooked through.
Remove the chicken and slice into small diced pieces, then place them back in the slow cooker. Give the chicken and veggies a good mix and replace the lid.
Cook the chicken mixture for another 10 minutes so the flavors can marry.
Using tongs or a slotted spoon, place the chicken taco mixture on corn tortillas and top with your choice of toppings.
Enjoy!
Watch the recipe video here: