Crab and Cherry Tomato Fettuccini
Because Sunday = pasta night. Crab and Cherry Tomato Fettuccini ?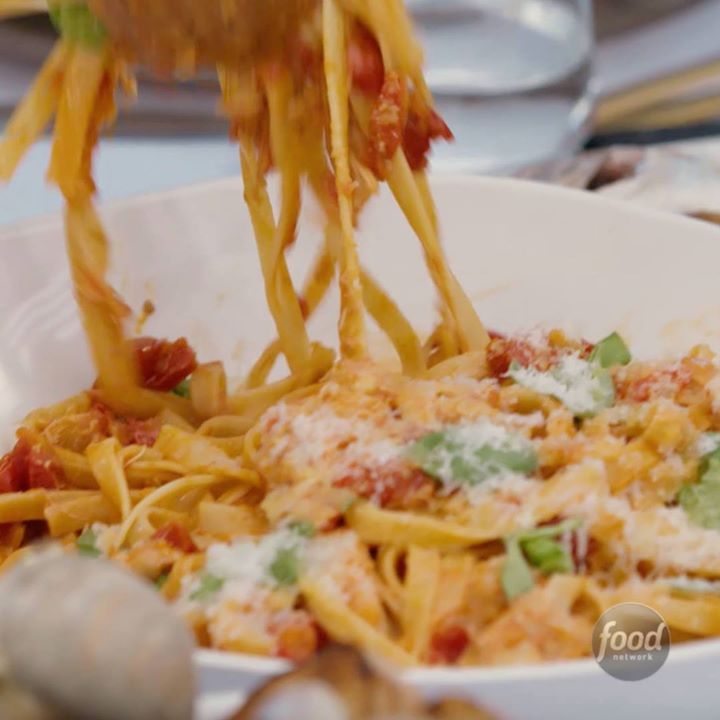 Ingredients
Kosher salt
1 pound fettuccini
3 tablespoons extra-virgin olive oil
2 shallots, chopped
1 clove garlic, smashed and peeled
½ cup dry white wine
Two 14-ounce cans cherry or baby Roma tomatoes
½ teaspoon dried oregano
1 cup jumbo lump crabmeat, picked through for shells
4 tablespoons (1/2 stick) unsalted butter, at room temperature
1¼ cups freshly grated Parmesan, plus more for serving
Torn basil leaves, for garnish, optional
Instructions
Bring a large pot of salted water to a boil over high heat. Add the pasta and cook for 2 minutes less than the package directions. Drain well, reserving 1 cup of pasta water.
Meanwhile, heat a large skillet over medium-high heat. Add the olive oil, shallots, garlic and 1 teaspoon salt. Cook, stirring often with a wooden spoon, until fragrant but not brown, about 2 minutes.
Deglaze the skillet with the white wine, then bring to a boil and cook until almost entirely evaporated, about 2 minutes. Stir in the tomatoes and oregano; bring to a simmer and cook for 10 minutes, stirring occasionally.
Add the crabmeat and butter, stirring until the butter is emulsified. Add the pasta and ½ cup pasta water, and sprinkle the plain pasta with the Parmesan before stirring. Using two spoons, toss well to coat.
Continue cooking until the pasta is al dente, adding additional pasta water as needed, 2 more minutes.
Serve sprinkled with additional Parmesan and torn basil, if desired.
Watch the recipe video here: