Meatball Calzone Pull Apart Bread
Pull apart bread stuffed with a yummy meatball and smothered in gooey cheese; when's the next game day?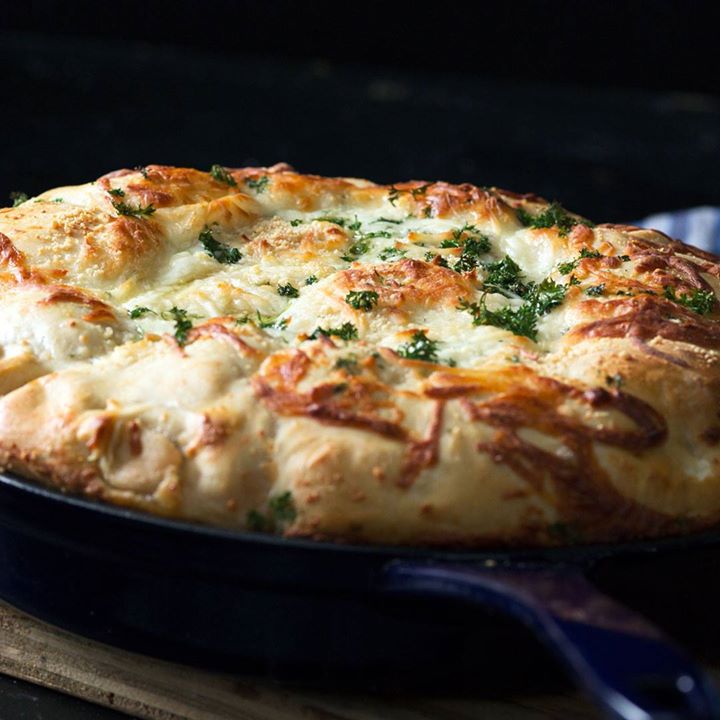 Ingredients
Meatballs:
½ pound ground beef
½ pound ground pork
½ plain panko breadcrumbs
2 cloves garlic, minced
½ tablespoon oregano
1 tablespoon Italian seasoning
¼ tablespoon red pepper flakes
1 egg
1½ tablespoons olive oil
1 teaspoon salt
1 teaspoon pepper
4 ounces mozzarella cheese, cubed in 1-inch squares
To assemble:
3 (8-ounce) bags store-bought pizza dough
2 cups marinara sauce
2 cups shredded mozzarella, divided
Parsley, chopped
Freshly grated Parmesan
Instructions
Preheat oven to 375 degrees.
In a medium bowl, combine ground beef, ground pork, breadcrumbs, garlic, oregano, Italian seasoning, red pepper flakes, egg, olive oil, salt and pepper. Form mixture into 1½-inch balls, and place a cube of mozzarella cheese in the center of each.
Separate each pizza dough into 4 pieces. In the center of each, add a meatball and top with a spoonful of marinara sauce and a sprinkle of mozzarella. Wrap dough around filling, and arrange dough balls in a cast-iron skillet. Sprinkle with 1 cup mozzarella, parsley and Parmesan.
Bake for 30 minutes until golden brown. Pull apart and enjoy.
Watch the recipe video here: