Big Mac Sliders
Big Mac Sliders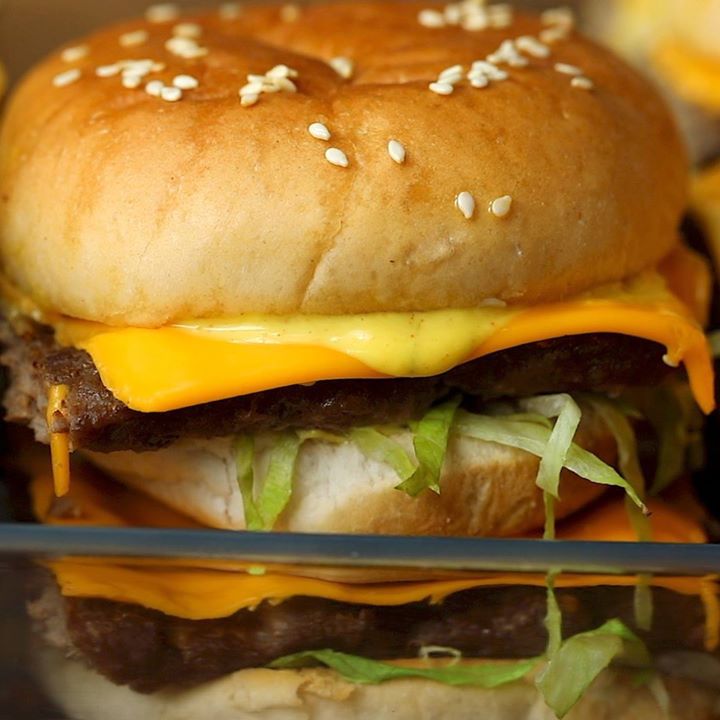 Ingredients
2 lb beef
1 egg
1 cup breadcrumbs
1 tbsp garlic powder
1 tbsp salt
1 tbsp pepper
6 buns, cut into thirds
2 tbsp butter
1 tbsp sesame seeds
¾ cup mayonnaise
3 tbsp mustard
1 tsp garlic salt
1 tbsp sweet relish
½ tsp onion powder
1 tsp sugar
½ tsp paprika
1 tsp vinegar
Diced white onion
Sliced iceburg lettuce
Sliced American cheese
Instructions
Begin with the burger meat – mix together the mince, egg, breadcrumbs, garlic powder and seasoning thoroughly with your hands. Separate the mixture into two halves and press into small baking trays. Make sure they are slightly larger than the eventual tray you'll use to build up the burgers in as the meat will shrink during cooking. Grill them on high for around 10 minutes until cooked through.
Meanwhile toast the buns cut side up until golden brown. Brush the tops with butter and sprinkle with sesame seeds.
Whisk together the mayonnaise, mustard, onion powder, garlic salt, sweet relish, vinegar and paprika.
Layer up the burgers – first cover the buns in the sauce, then a layer of onions and lettuce, then one of the giant burger pattys and a layer of american cheese. Next, put the middle layer of buns on top and more sauce, onions, lettuce, the other patty, more cheese, more sauce then the top layer of buns.
Cut the sliders up and enjoy.
Watch the recipe video here:
Big Mac Sliders

Posted by Twisted on Sunday, October 22, 2017