Giant Stuffed Burger
Giant Stuffed Burger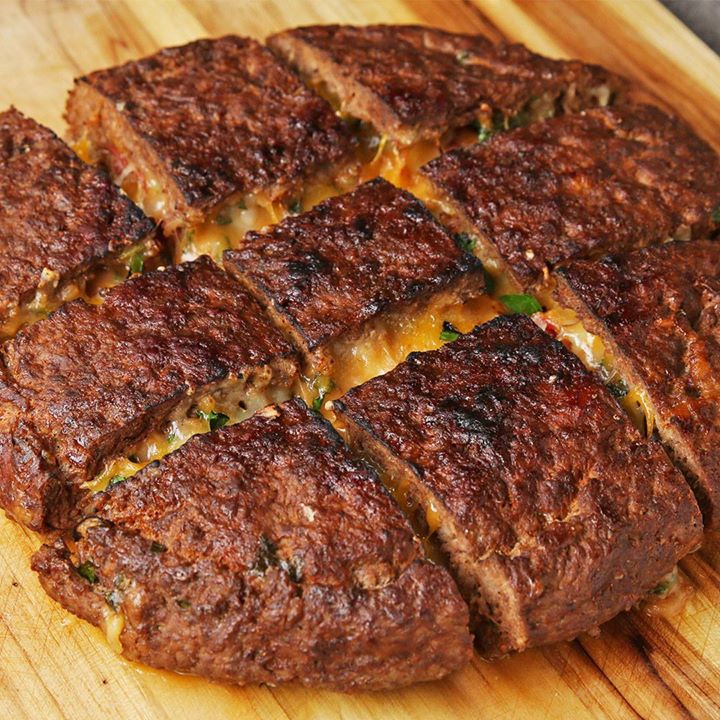 Ingredients
1 lb bacon
2 tablespoons salted butter
1 large onion, thinly sliced
3 lb ground beef
1 tablespoon garlic powder
1 tablespoon paprika
2 tablespoons salt
1 teaspoon pepper
oil, for greasing pan
2 cups grated cheddar cheese, divieded
2 cups grated monterey jack cheese, divided
1 cup fresh parsley, chopped, divided
lettuce, to serve
tomato, sliced, to serve
8 rolls, to serve
Instructions
Preheat oven to 350˚F (180˚C).
On a parchment paper-lined baking sheet, lay 5 of the bacon strips down back to back. Lifting up every other strip, fold about 1-inch (2 cm) the bacon back on itself. Lay another slice of bacon perpendicular to the strips and fold the flaps back over the horizontal strip of bacon. Repeat with the rest of the bacon until a tight weave has formed.
Bake for 30 minutes, or until desired crispiness has been reached.
In a 10-inch (25 cm) cast iron skillet heat the butter over medium-low heat. Add the onions and cook until a deep gold color, about 45 minutes. Remove from heat.
In a bowl, mix together the beef, garlic powder, paprika, salt and pepper. Divide the beef mixture in half.
On a piece of parchment paper spread half of the meat into a large circle about 10 inches (25 cm) long and 1 inch (2 cm) thick. Repeat with the other half of meat on a separate piece of parchment paper.
Sprinkle half of the cheddar and half of the Monterey Jack over one disk of ground beef, along with half of the parsley. Place the bacon lattice on top.
Sprinkle the rest of the cheddar and Monterey on top of the bacon lattice, along with the rest of the parsley.
Top with the caramelized onions. Place the other circle of meat on directly on top. Begin pinching together the meat patties making sure the fillings are not coming out, until a giant burger is formed.
Heat a greased 10 inch (25 cm) cast iron skillet over medium heat. Place the giant burger in the skillet carefully while peeling away the bottom piece of parchment. Cook for 5 minutes, until it is a deep brown color.
Using a large plate, place it over the skillet. While holding the plate in place flip the skillet so the burger falls onto to plate. Place the skillet back on the heat and slide the burger back into the pan so the cooked side is facing up now. Cook for another 5 minutes.
Remove from heat and place skillet in the oven to finish cooking for 5 minutes
Remove from pan using spatulas and place on a cutting board for serving.
Cut into 8 or more pieces. Serve on a roll with lettuce and tomato.
Enjoy!
Watch the recipe video here:
YES, we did make a cheese-stuffed burger this GIANT. ?FULL RECIPE: https://tasty.co/recipe/giant-stuffed-burgerWe've made gift guides for EVERYONE in your life curated with our fave picks! You're going to LOVE our picks and so are your loved ones. // SHOP 'EM ALL NOW: http://bzfd.it/2Dq28ds

Posted by Tasty on Thursday, December 21, 2017