Mama Guilla's Sancocho
Mama Guilla's Sancocho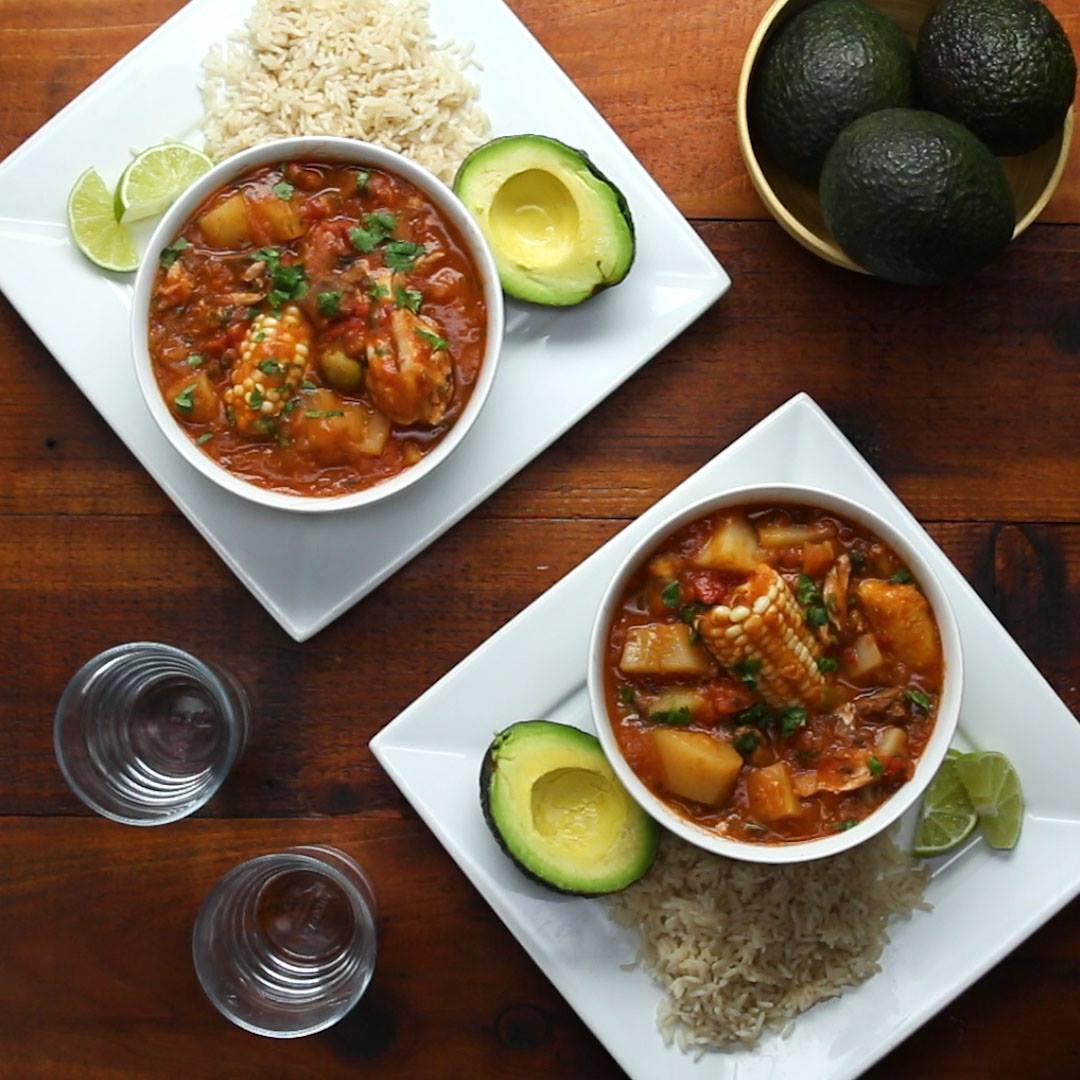 Ingredients
2 tablespoons olive oil
1 cup yellow onion, chopped (150 g)
1 cup green pepper, diced (100 g)
1 ½ cups fresh cilantro, chopped, plus more for serving (60 g)
5 cloves garlic, chopped
½ cup white cooking wine (120 mL)
14.5 oz diced tomato, 2 cans (410 g)
15 oz tomato sauce, 1 can (425 g)
2 tablespoons sofrito
2 tablespoons recaito
3 tablespoons spanish green olive
2 teaspoons ground cumin
salt, to taste
pepper, to taste
1 lb chuck roast, or stew beef (455 g)
2 cups chicken broth (480 mL)
4 cups water (960 mL)
1 lb chicken drumstick (455 g)
3 ears corn, shucked, broken into large pieces
2 russet potatoes, peeled and cubed
1 yucca, peeled and cubed
2 plantains, sliced into 2 in (5 cm) pieces
avocado, halved, for serving
white rice, cooked, for serving
lime wedge, for serving
Instructions
Heat the olive oil in a large pot over medium heat.
Add the onion, green pepper, cilantro, and garlic. Cook until the onions are translucent, about 5 minutes.
Add the cooking wine, diced tomatoes, tomato sauce, sofrito, recaito, Spanish olives, cumin, salt, and pepper. Stir for 2-3 minutes to allow the flavors to meld.
Add the stew beef. Increase the heat to high and cook for 2-3 minutes, until the meat is cooked through.
Add the chicken broth and water. Stir to combine. Add the chicken, corn, potatoes, and yuca. Stir well. Cover and cook over medium-high heat for about 45 minutes, stirring occasionally, until the meat is tender and the potatoes are softened.
Reduce the heat to low and add the plantains. Simmer uncovered for 15 minutes, until the plantains are tender.
Garnish the soup with cilantro and serve with halved avocados, rice, and lime wedges, if desired.
Enjoy!
Watch the recipe video here:
Mama Guilla's sancocho to make you feel at home ?Full Recipe: https://tasty.co/recipe/mama-guilla-s-sancocho

Posted by Tasty on Friday, October 12, 2018