Grilled Huli Huli Chicken
I got this grilled chicken recipe from a friend while living in Hawaii. It sizzles with the flavors of brown sugar, ginger and soy sauce. Huli means "turn" in Hawaiian. This sweet and savory glaze is fantastic on pork chops, too. —Sharon Boling, San Diego, California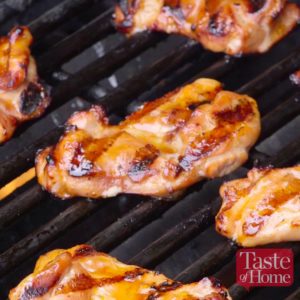 Ingredients
1 cup packed brown sugar
¾ cup ketchup
¾ cup reduced-sodium soy sauce
⅓ cup sherry or chicken broth
2-1/2 teaspoons minced fresh gingerroot
1-1/2 teaspoons minced garlic
24 boneless skinless chicken thighs (about 5 pounds)
Instructions
In a small bowl, mix the first six ingredients. Reserve 1-1/3 cups for basting; cover and refrigerate. Divide remaining marinade between two large resealable plastic bags. Add 12 chicken thighs to each; seal bags and turn to coat. Refrigerate for 8 hours or overnight.
Drain and discard marinade from chicken.
Grill chicken, covered, on an oiled rack over medium heat for 6-8 minutes on each side or until no longer pink; baste occasionally with reserved marinade during the last 5 minutes.
Watch the recipe video here:
Transport yourself to Hawai'i with this tender, marinated chicken recipe!Get the recipe for Grilled Huli Huli Chicken here–> https://trib.al/hJKY0DV

Posted by Taste of Home on Wednesday, July 3, 2019