Apple-Cinnamon Cheesecake Bars
Creamy cheesecake filling gets mixed with chopped apples and nestled between two buttery crescent layers to make the best dessert bar you'll try this fall. And the crazy delicious apple-cinnamon sugar topping takes it over the top in the best way possible. Trust us, you're going to want to make these bars more than once!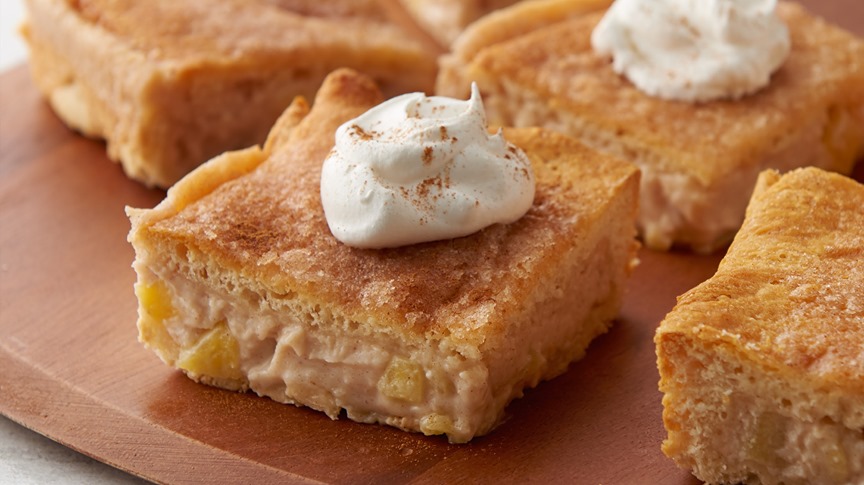 Ingredients
2 cans (8 oz each) Pillsbury™ refrigerated crescent dough sheet SAVE $
2½ cups finely chopped peeled sweet-tart apples (Honeycrisp)
1 teaspoon apple pie spice or ground cinnamon
2 packages (8 oz each) cream cheese, softened
1¼ cups sugar
1 teaspoon vanilla
¼ cup butter, melted
Cool Whip™ original whipped topping (thawed), if desired
Instructions
Heat oven to 350°F. Unroll 1 dough sheet, and place in ungreased 13x9-inch (3-quart) glass baking dish, stretching to cover and firmly pressing dough to cover bottom.
In small microwavable bowl, mix apples and ½ teaspoon of the apple pie spice. Microwave uncovered on High 2 to 3 minutes, stirring after each minute, until apples are softened.
In medium bowl, mix cream cheese, 1 cup of the sugar and the vanilla with electric mixer on medium speed until smooth. Stir in apple mixture, and spread on top of dough in baking dish.
Unroll remaining dough sheet, and carefully place on top of cream cheese layer, slightly stretching to cover. Carefully pour melted butter onto dough, and brush to spread evenly over top. In small dish, mix remaining ¼ cup sugar and ½ teaspoon apple pie spice. Sprinkle evenly over top of dough.
Bake 28 to 33 minutes or until dough is deep golden brown and baked through. Cool on cooling rack 1 hour; refrigerate 2 hours, and cut into 5 rows by 3 rows. Serve topped with whipped topping, and sprinkle with additional apple pie spice, if desired.
Watch the recipe video here: