PARMESAN ROASTED CAULIFLOWER
These Parmesan Roasted Cauliflower Bites are the perfect quick and easy side dish, or double as a vegetarian baked chicken nugget!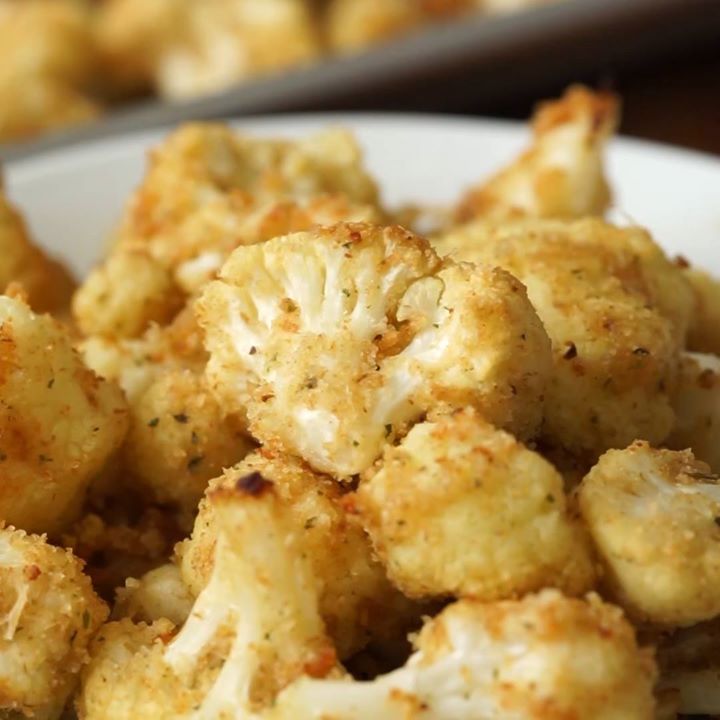 Ingredients
7 cups cauliflower florets, cut to bite sized pieces
3 to 4 tbsp olive oil
1 cup Italian bread crumbs
½ tsp garlic powder
½ tsp salt
⅓ cup parmesan cheese
Instructions
Preheat oven to 425 degrees F. Line a large, rimmed baking sheet with foil and spray liberally with non-stick cooking spray. Set aside.
Combine the cauliflower and olive oil in a large zip close bag and shake to coat.
Add the remaining ingredients to the bag and shake until coated, pressing slightly to help the breading stick. Pour onto the baking sheet and spray the tops of the cauliflower with cooking spray and bake for 20 minutes. Stir the cauliflower and continue to bake an additional 10 minutes. Serve hot. Enjoy!
Watch the recipe video here:
Parmesan Roasted Cauliflower by I Wash You Dry

This parmesan-roasted cauliflower from I Wash… You Dry is the perfect dinner side dish ?!Get her recipe: http://www.iwashyoudry.com/parmesan-roasted-cauliflower/

Posted by Tasty on Saturday, September 30, 2017