Instant Pot Berries and Cream Angel Cake
Remember, cake is for life, not just for holidays. Treat yourself!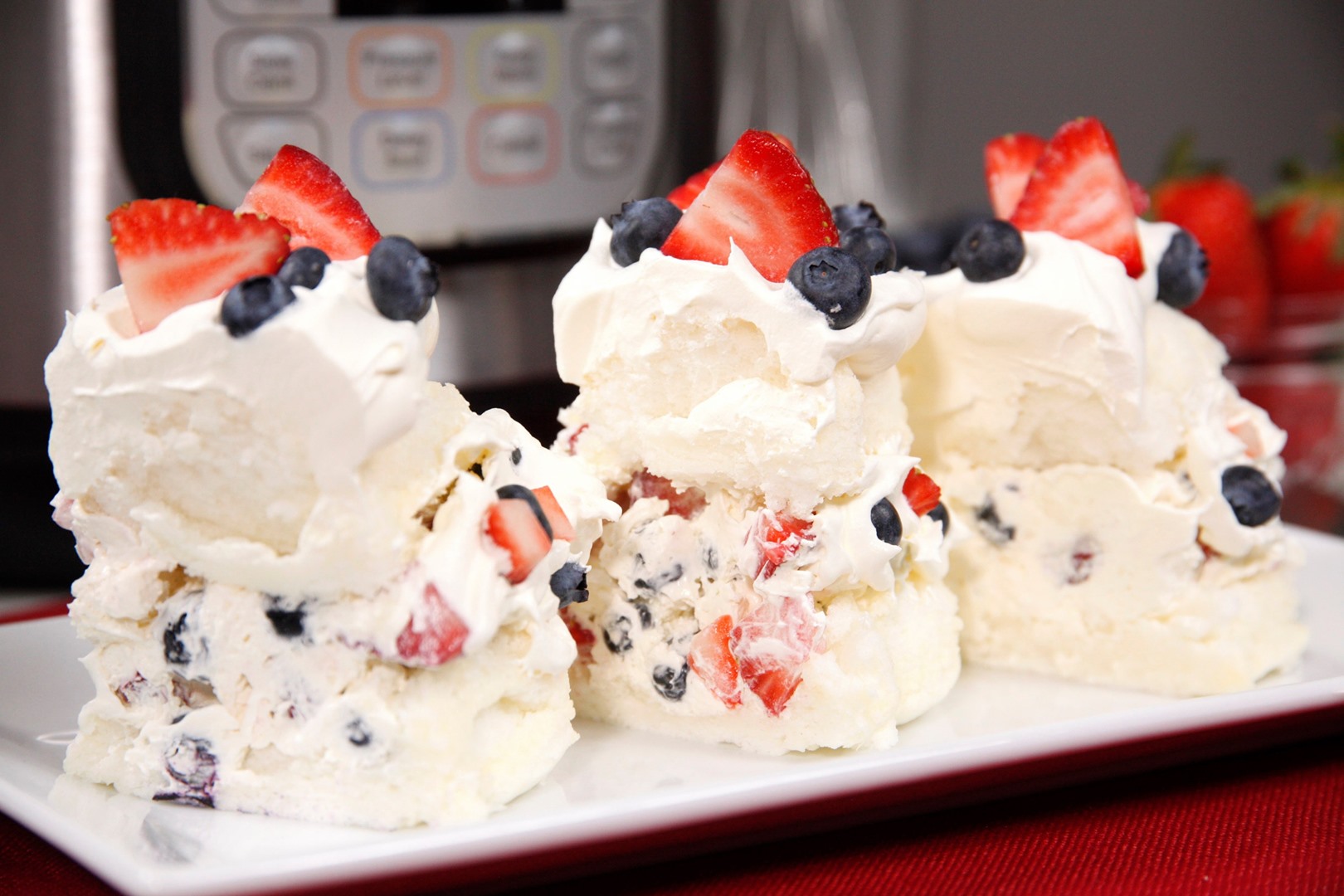 Ingredients
8 oz angel food cake mix (half a box)
½ cup +2 tbsp water
2½ cups fresh berries (strawberries, blueberries, blackberries and/or raspberries)
2 oz cream cheese, softened
1 tbsp sugar
2 tsp orange juice
1 cup thawed whipped topping (or whipped cream)
Instructions
In a large bowl, beat cake mix and water on low speed for 30 seconds, then on medium speed for 1 minute.
Pour evenly into an ungreased IP-friendly bundt or tube pan (we love this one: https://amzn.to/2RNympZ). Cover with a paper towel and then tightly cover with aluminum foil.
Pour one cup of water in the Instant Pot and insert the steam rack. Carefully lower the bundt pan on to the steam rack using a foil sling, then secure the lid, making sure the vent is closed.
Using the display panel select the MANUAL function*. Use the +/- keys and program the Instant Pot for 27 minutes.
When the time is up, quick-release the remaining pressure.
Allow cake to cool completely on a wire rack, then use a thin silicone spatula to gently separate the cake from the pan. Cut cake horizontally in half.
Meanwhile, chop enough berries to measure 1½ cups, reserving the remainder for decoration.
In a large bowl, beat cream cheese, sugar and orange juice until well combined. Beat in thawed whipped topping on low speed just until combined. Do not overmix. Gently fold in berries.
Spread about ⅔ of the berries and cream mixture onto the bottom half of the cake. Cover with top of cake and remaining berries and cream mixture.
Refrigerate one hour, then garnish with remaining fruit.
Watch the recipe video here:
Remember, cake is for life, not just for holidays. Treat yourself!RECIPE: http://chopsecrets.com/instant-pot-berries-and-cream-angel-cake/

Posted by Chop Secrets on Friday, August 16, 2019