Instant Pot Tomato Pie
This is a fantastic brunch surprise that will thrill your guests!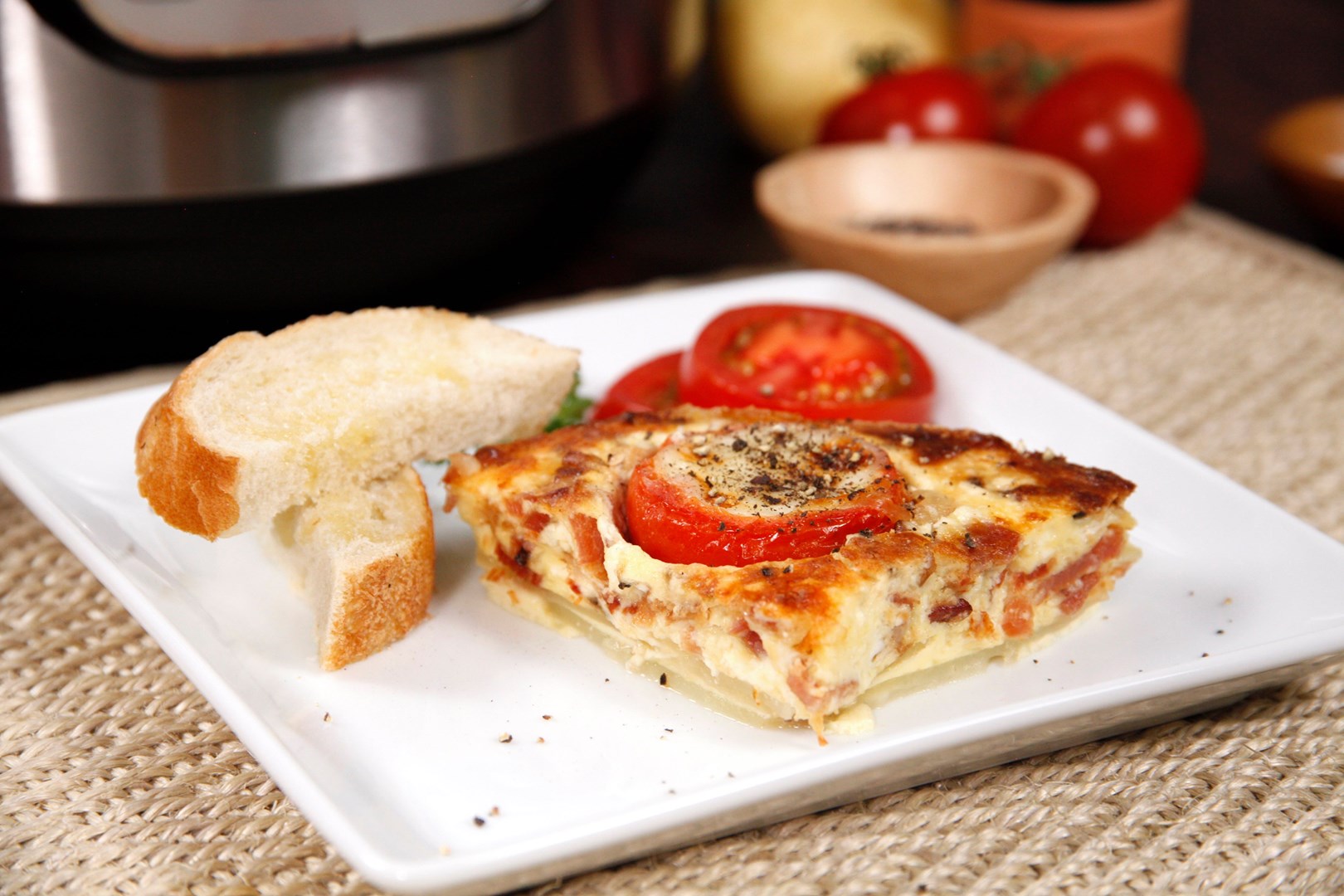 Ingredients
2-3 oz very thin potato slices
4 small tomatoes (2½ inches each)
4-5 oz fresh mozzarella "pearls" (or larger mozzarella cut to ½″ pices)
2 eggs, beaten
½ cup half-and-half
¼ cup sour cream
½ tsp salt
¼ tsp pepper
2 oz cooked and crumbled bacon or diced ham
2 oz emmental or other good quality swiss cheese, shredded
Fresh ground pepper and chopped parsley for garnish (optional)
Instructions
Coat the inside of an IP-friendly casserole with nonstick spray (we love this one: https://amzn.to/2OXT8Bw).
Layer potato slices evenly on the bottom.
Cut the tops off the tomatoes and use a melon baller or small spoon to remove the seeds and interior ribs.
Place the tomatoes on the potato slices and divide the mozzarella evenly into the hollowed-out tomatoes.
In a medium bowl, beat together eggs, half-and-half, sour cream, salt and pepper. Add cheese and meat and stir to combine.
Carefully pour the egg mixture around the tomatoes, evenly distributing meat and cheese. Cover with a paper towel and then tightly cover with aluminum foil.
Pour one cup of water in the Instant Pot and insert the steam rack. Carefully lower the casserole on to the steam rack, then secure the lid, making sure the vent is closed.
Using the display panel select the MANUAL function*. Use the +/- keys and program the Instant Pot for 25 minutes.
When the time is up, let the pressure naturally release for 10 minutes, then quick-release the remaining pressure.
Remove the casserole and set it under the broiler until golden, 5-10 minutes.
Serve immediately, topped with fresh ground pepper and chopped parsley (optional).
Watch the recipe video here: