Taco Mac 'N' Cheese Garlic Bread Pie
Taco Mac 'N' Cheese Garlic Bread Pie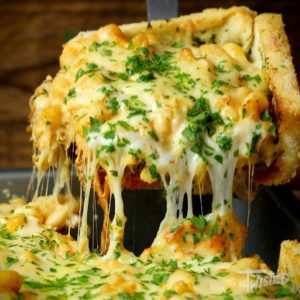 Ingredients
10 slices of white bread
150g butter
2 tbsp parsley, chopped
2 cloves of garlic, chopped
6 slices of mozzarella
30g butter
30g flour
½ tbsp mustard
½ tsp smoked paprika
500ml whole milk
200g macaroni, cooked
150g cheddar, grated
100g mozzarella, grated
1 tsp salt
1 tsp pepper
1 onion, finely chopped
1 clove of garlic, finely chopped
3 tbsp taco seasoning
500g beef mince
1 tsp salt
1 tsp pepper
100g cheddar/mozzarella mix, grated
2 tbsp chopped parsley, to serve
Instructions
Cut the crusts off the bread and brush with garlic butter on both sides. Lay in a high sided s baking dish and bake for 15 mins at 180C/375F. Place the sliced mozzarella on top and bake for another 10 mins.
Heat some oil in a large saute pan on a medium heat. Add your onion and peppers for 5 mins until soft and starting to caramelise. Add your garlic and taco seasoning and cook our for another 2 mins. Add your beef mince and turn up the heat, sautéing until it is browned but still tender, about 5 mins. Set aside.
Melt your butter in a large pan. Add your flour, smoked paprika and mustard powder cook out for 2 mins. Gradually add your milk in small increments, beating all the while. Bring to a boil, then turn down and simmer for 2 mins. Add your cooked macaroni, cheddar, mozzarella, salt and pepper and stir to combine.
Spoon your beef mix into your bread lined dish and top with your macaroni cheese. Finish with your cheddar mozzarella cheese mix and bake for 15 mins.
Sprinkle with chopped parsley and serve!
Watch the recipe video here: