Crispy Chicken with Creamy Bacon & Mushroom Pasta
CRISPY CHICKEN WITH CREAMY BACON & MUSHROOM PASTA recipe.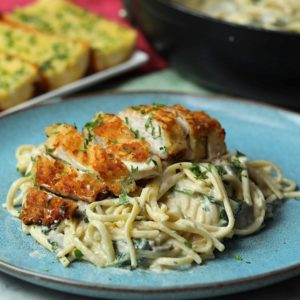 Ingredients
3 chicken breasts
1 ½ cups plain flour
½ cup grated parmesan
½ tsp garlic powder
1 tsp salt
1 tsp pepper
2 tbsp chopped parsley
2 cups buttermilk
2 eggs, whisked
8 rashers bacon, chopped
1 tbsp butter
1 onion, diced
3 cloves garlic, minced
2 cups, sliced mushrooms
½ cup chicken stock
3 cups heavy cream
4 cups baby spinach
½ cup grated parmesan cheese
400g cooked linguine
Salt and pepper to taste
Instructions
Add flour, parmesan, salt, pepper and parsley to a bowl. Mix to combine. In a separate bowl, whisk buttermilk and eggs together. Coat each chicken breast in flour, then into the buttermilk then back into the flour mixture.
Heat oil in a large pan over medium heat. Sear the chicken breasts on both sides until golden brown. Transfer to a baking pan and bake for 10 minutes or until cooked through. Keep warm.
Heat a pan over medium heat. Add bacon and fry until just crispy. Add butter, mushrooms and onions. Cook until softened, adding a lid to help. Add garlic and cook until aromatic.
Pour in the chicken stock and cream. Stir to combine and bring to a simmer. Cook for 15 minutes until reduced and thickened.
Add the spinach and cook until wilted. Add in the cooked pasta, parmesan and season with salt and pepper.
Serve pasta in bowls. Slice the chicken and serve on top.
Garnish with pasta, enjoy!
Watch the recipe video here: