Lamb Meatballs with Raisin Pesto
Loving meatballs has never been this rewarding. They're gilded with lots of strong spices and set in a cooling swoosh of yogurt and anointed with the sweet brightness of a mint pesto. Sound fancy? Not really. We use ground lamb, which is naturally fatty and can be baked without sacrificing juiciness or a charred crust.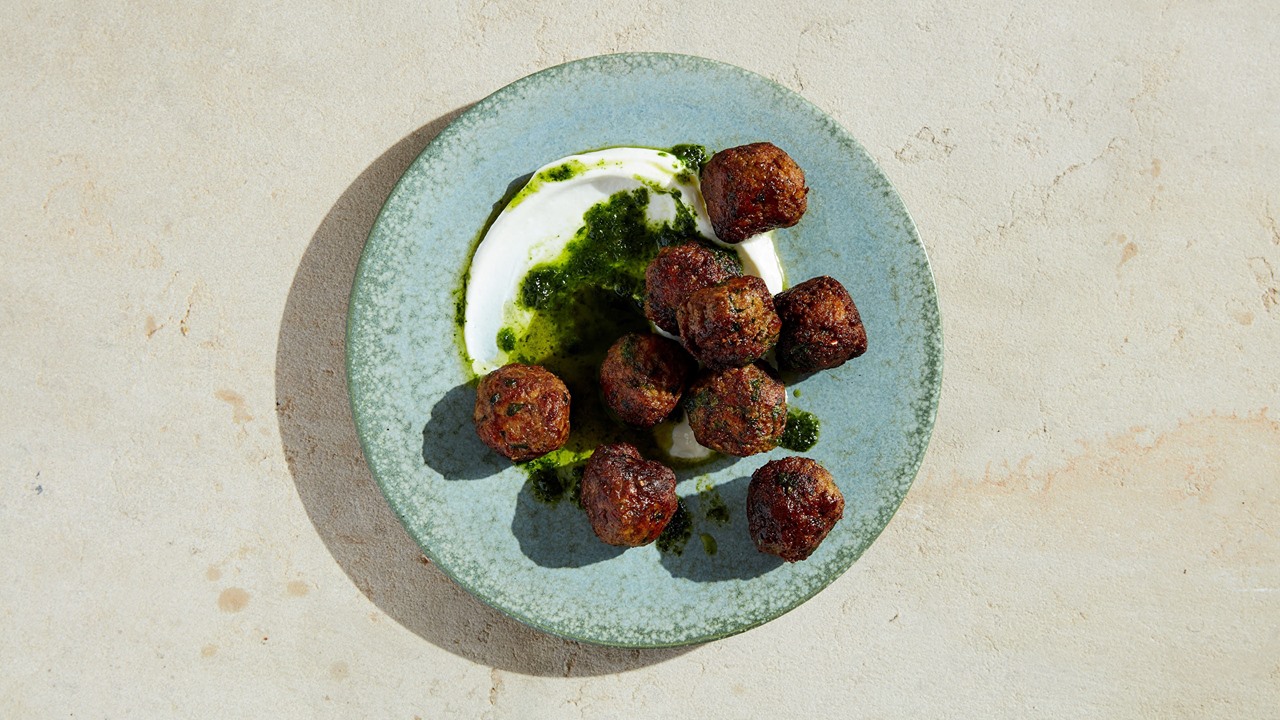 Ingredients
1 large egg
½ cup panko (Japanese breadcrumbs)
½ tsp. ground cumin
¼ tsp. crushed red pepper flakes
¼ tsp. ground turmeric
¼ cup finely chopped parsley, plus 1 cup parsley leaves with tender stems
2 Tbsp. plus ½ cup extra-virgin olive oil
1½ tsp. kosher salt, plus more
2 garlic cloves, divided
1 lb. ground lamb
2 cups mint leaves
3 Tbsp. golden raisins
Plain whole-milk Greek yogurt (for serving)
Instructions
Place a rack in upper third of oven; preheat to 425°. Combine egg, panko, cumin, red pepper flakes, turmeric, finely chopped parsley, 2 Tbsp. oil, and 1½ tsp. salt in a large bowl. Finely grate 1 garlic clove into bowl. Add lamb and mix with your hands until evenly distributed.
Gently roll lamb mixture into 1½"-diameter balls (about the size of a golf ball; you should have about 20). Place on a rimmed baking sheet, spacing evenly apart. Bake meatballs until browned and cooked through, 8–10 minutes.
Meanwhile, purée mint, raisins, parsley leaves with tender stems, remaining garlic clove, remaining ½ cup oil, and a big pinch of salt in a blender until smooth. Taste pesto; season with more salt if needed.
Spread yogurt over plates and divide pesto and meatballs on top.
Do Ahead: Pesto can be made 2 days ahead; cover and chill. Meatballs can be formed 2 months ahead; freeze on baking sheet until firm, about 2 hours, then transfer to a freezer bag and keep frozen.
Watch the recipe video here: