Hot Spinach and Artichoke Dip
I love the addition of bacon to this cheesy spinach and artichoke dip. It's a family favorite around the holidays. My Nana passed it on to me. I hope you'll enjoy it!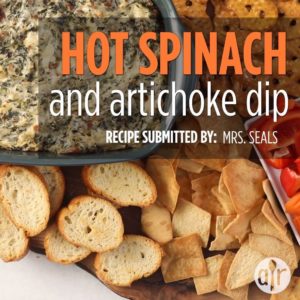 Ingredients
8 slices bacon
1 (10 ounce) package frozen chopped spinach, thawed and drained
1 (14 ounce) can quartered marinated artichoke hearts, drained
1 (5 ounce) container garlic-herb flavored cheese spread
1 cup grated Parmesan cheese
1 (8 ounce) container sour cream
½ cup mayonnaise
Instructions
Preheat oven to 400 degrees F (200 degrees C).
Place bacon in a large, deep skillet. Cook over medium high heat until evenly brown. Drain and crumble into a medium bowl.
Mix spinach, artichoke hearts, garlic-herb flavored cheese spread, Parmesan cheese, sour cream and mayonnaise into the bowl with bacon.
Scoop mixture into a 7x11 inch baking dish. Bake in the preheated oven 20 minutes, or until bubbly and lightly browned.
Watch the recipe video here: